Editor's Note – By now, it is obvious to most Americans that Obama is not a fan of the second amendment, nor is anyone in his administration. In fact, many contribute the Fast and Furious scandal to that end.
The problem many see for the second amendment now is that Obama has received a bounce from the DNC despite dismal economic and unemployment news on Friday. Therefore, its not a stretch to assume that booming gun sales are a result of gun owners fears of what an unfettered second term for Obama may mean. Polls defy gravity, and Obama has a lock on much of his base, the only question is whether they will come out in force as they did in 2008.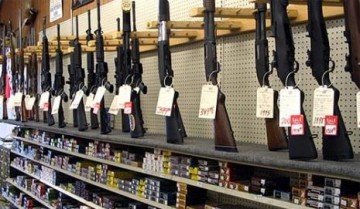 Since the electorate is so polarized, it comes down to turnout, and slicing off just enough of the small number of the undecided in battleground states to seal the deal one way or the other. Meanwhile, Americans are not taking chances and are once again buying guns and ammunition in volume.
Gun Sales Surge: An Obama Bounce?
By: Allen Wastler, Managing Editor, CNBC.com
Smith & Wesson stock Friday was zooming, thanks to a stellar earnings report. The firearms maker also boosted its outlook for the rest of the year. Because of the strong business, its backlog of orders more than doubled from the same quarter last year, the company is concentrating on boosting production and building inventory.
"We are underserving the market at this moment, we all know that, and that's a great opportunity going forward for us," CEO James Debney said in a conference call with analysts.
And another gun maker, Sturm, Ruger & Co., also hit a milestone of sorts in terms of meeting consumer demand. It produced its one-millionth gun of the year…well ahead of last year's pace.
"It took us nearly all of 2011 to build one million firearms, but in 2012 we accomplished it on August 15th," said Ruger President and CEO Mike Fifer in a statement.
What's driving the demand that has gun makers cranking up production?
Speculation has focused on fears of a coming regulatory crackdown on gun ownership. Liberal administrations tend to be anti-gun and so, the thinking goes, an Obama re-election would set the stage for stricter gun purchasing requirements. Hence, people are buying now in anticipation of difficulty later.