Founder and CEO of ACT! For America, Brigitte Gabriel, scores big in Flathead Valley, Montana
by James White  – Northwest Liberty News
Near the beginning of the week, SHTFplan.com ran an article outlining one commentators reply to a question about moderate Islam from a member of the audience to whom she was addressing. During the reply, the commentator said, "It is time we take Political Correctness and throw it in the garbage."
You can link to the original article from SHTFplan by clicking here.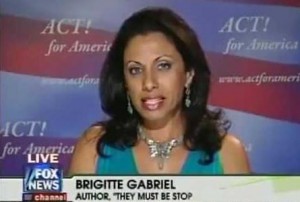 The commentator who made the statement to her audience member was National Security Expert, Brigitte Gabriel. Her organization, ACT! For America, is the largest non-profit, non-partisan, grassroots organization devoted to promoting national security and defeating terrorism; with over 280,000 members in 11 countries.
I have included a brief background on Ms. Gabriel below:
Brigitte Gabriel is the Founder and President of Act for America. Ms. Gabriel is one of the leading national security experts in the world providing information and analysis on the rise of Islamic terrorism. Ms. Gabriel lectures nationally and internationally about national security and current affairs.

Her expertise is sought after by world and business leaders. Ms. Gabriel has addressed the United Nations, the Australian Prime Minister, members of the British Parliament/House of Commons, members of the United States Congress, the Pentagon, the Joint Forces Staff College, the US Special Operations Command, the US Asymmetric Warfare group, the FBI, and many others.

In addition, Ms. Gabriel is a regular guest analyst on Fox News Channel, CNN, MSNBC, and various radio stations daily across America. She serves on the board of advisers of the Intelligence Summit.

Ms. Gabriel is the author of two New York Times Best Sellers, BECAUSE THEY HATE and THEY MUST BE STOPPED. Ms. Gabriel is named one of the top 50 most prominent speakers in America. She speaks Arabic, French, English and Hebrew.
Stand Up America and The Glacial Forum sponsored an event in the Flathead Valley about 6 weeks ago, at which Ms. Gabriel was the featured speaker. I have included the video of Ms. Gabriel's presentation below.
%CODE%