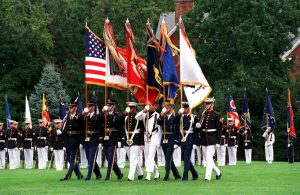 Gen. Vallely: US Now 'Dealing Peace Through Strength'
Newsmax TV's "America Talks Live"
By Bill Hoffmann   |   Monday, 17 Apr 2017 03:52 PM
President Donald Trump has put saber-rattling countries on notice the United States is ready to use military action against its aggressors, retired U.S. Army Major Gen. Paul Vallely told Newsmax TV.
With his attack on a Syrian missile base and the dropping of "the mother of bombs" on Islamic State targets in Afghanistan, Trump has shown the U.S. is a strong nation once again, Vallely said Monday.
"It's a strong message that we have a strong president now where we've been void of any strength on the international scene for the last eight or nine years," he told Bill Tucker on "America Talks Live."
"It's very important that our allies particularly see us – and any other nation in the world – as a strong nation now that is dealing peace through strength, and that's a good message."
Vallely – who chairs Stand Up America, which promotes the principles of America's founding fathers – said he is impressed by Trump's deployment of Vice President Mike Pence to address national security.
"President Trump is using the vice president in national security, probably more so than any other past administrations have done," he told Tucker.
During a visit Monday to South Korea, Pence stopped at the demilitarized zone and warned North Korea the U.S. "era of strategic patience is over" in regard to its nuclear missile program.
"That is great to get over on the DMZ and see actually what the situation is. I think [National Security Adviser] Gen. McMaster and Vice President Pence are really saying the same thing," Vallely said. "That this strategic patience and trying to work with the North Koreans and the Chinese on this has not gone well because North Korea has strengthened its nuclear missile capability.
"We've been watching that for years, but no one's ever taken any positive action. . . . What is going to happen, though, if they are conducting a direct threat against the U.S. or its allies or the fleets, then we will take military action against them."
Asked by Tucker if the United States risks taking on too many military engagements against its enemies, Vallely said: "I think you have to look really in an analytical way and from the strategic position of the United States and the world. Really you can identify the real threats on one hand.
"It's not like we have all these threats all over. We have them with Korea, we have ISIS, and we have Iran. Those are the primary threats.
"So, from that standpoint, we can really focus on identifying those threats, adapting particular actions, strategic actions against each of those threats, and we can do it simultaneously if we have to."
Vallely is the author of "Endgame: The Blueprint for Victory in the War on Terror," written with retired Lt. Gen. Thomas McInerney and published by Regnery.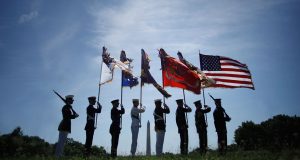 America First Million Member Sign-Up
Please join us in our commitment to promote American exceptionalism, freedom, our Constitution,  our American way of life, and our safety and security by making a donation and subscribing to our periodic newsletters and messages by donating below.