FRENCH ALLIES WELCOME TRUMP INNAUGURATION WITH APPLAUSE, ENTHUSIASM
By Rosine Ghawji
As President Donald J. Trump took the oath of office at noon on Friday, some 3800 miles away in the French capital, a group of dozens of high-ranking French dignitaries hosted an American delegation in a festive celebration sponsored by French-American Friendship Association of Paris.  French dignitaries included members of the French Parliament, Members of the European Parliament, and members of academia and other elected officials
The American military and congressional contingent included Retired General Paul Vallely, former Deputy Commander of United States Pacific Command, former Congressman Mike Flanagan of Illinois, and best-selling military author and former U.S. Navy JAG Officer, Lieutenant Commander Don Brown, who represented four-star retired admiral James "Ace" Lyons, former commander of the United States Pacific Fleet.  Members of the French-Russian Association of Paris also attended to show support for the American delegation.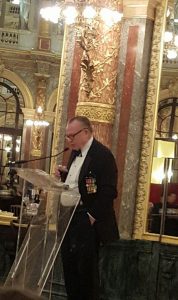 The event, held in the ballroom of Hotel Intercontinental Paris le Grand Hotel, and sponsored in part by the French-American Association of Paris, was covered in Europe and the Middle East by the I-24 Network, and by internationally-acclaimed journalist Christian Malard, who has interviewed more world leaders than any other active journalist.
President Trump's inaugural address was applauded by the French hosts several times, but perhaps the most enthusiastic applause, surprisingly, came when the new President proclaimed "America First."
After the inauguration, the French hosted a large cocktail party, followed by a large formal banquet in the Hotel's grand Ballroom, which commenced with the playing of the Star Spangled Banner. After dinner, all members of the U.S. Delegation addressed the crowd, along with historian Frank Mitchell, author of DONALD TRUMP'S PLACE IN HISTORY: The Untold Story.
The loudest and most sustained applause came when Don Brown delivered Admiral Lyons' remarks on advice the Admiral would give to President Trump. Addressing the crowd in French, Russian and English, Brown presented Lyons' speech, which declared that America's "eight-year nightmare with Barak Obama is finally over." He called on President Trump to eradicate the Muslim Brotherhood from all positions in the federal government, to designate the Muslim Brotherhood as a terrorist organization, and to prosecute its members for sedition. To each of these suggestions, the crowd enthusiastically responded with approval and applause.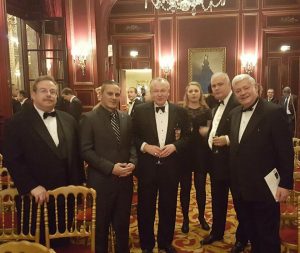 The historic Intercontinental Paris Le Grand Hotel, built in 1861 at the request of Emperor Napoleon III, has been the site for numerous Franco-American diplomatic events in the past, and has hosted prominent American leaders including Presidents Harry Truman, Richard Nixon, and Dwight Eisenhower. It has also hosted other notable Americans, including Ernest Hemmingway, Orson Wells, and Gregory Peck.
The historic commemoration of the Trump inauguration marks the first known event in which the French have invited an American delegation to celebrate the inauguration of an American President.
MG Paul Vallely U.S. Army (ret.) and Congressman Michael Flanagan interview with J.D. Hayworth of Newsmax: