Editor's Note – Could FEMA be described any more precisely now than  it is a 'four-letter word' that starts with "F"? Ask the folks in Staten Island. There is just no excuse for such ineptitude, and is one concrete example that the Federal Government is not good at running anything, let a lone a nation's health care – but that is what America effectively voted for – be careful of what you ask for, you might get it. "Big Sis" Napolitano should be fired summarily!
%CODE%
Angry New Yorkers say Obama pledge to cut red tape ignored by FEMA
By Perry Chiaramonte – Fox News
Storm-ravaged New Yorkers say President Obama's promise to cut red tape and get them aid in the aftermath of Sandy has proven to be hot air.
Angry citizens vented at FEMA officials at a town hall meeting held by the disaster relief agency Thursday, with tempers boiling over. Some 1,000 people, many left homeless by the Oct. 29 storm, attended the meeting at Staten Island's New Dorp High School. They were initially scheduled to submit written questions that would be picked and answered at random, but the session turned into an angry shouting match where residents booed FEMA officials and accused them of lying.
"We are the people – we are the middle class, and we are getting the finger," said frustrated resident Scott McGrath, who personally spoke to President Obama and New York Gov. Andrew Cuomo when they came to Staten Island to inspect storm damage earlier this month. "You were there when I met Obama, and I told the president … that the middle class was getting the royal finger. And he said, 'FEMA works for me.'"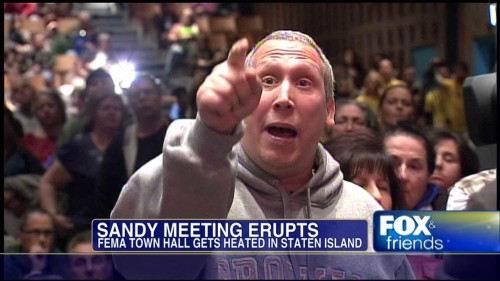 "FEMA ain't doing nothing," McGrath added. "They keep going around in circles."
The storm made landfall on the coast of southern New Jersey and traveled north, leaving a swath of death, destruction and darkness. Some 125 people were killed, including 48 in New York. It's been estimated that half of the city's deaths occurred in Staten Island. Millions were left without power for weeks by the storm, which also caused widespread gasoline shortages.
Obama addressed the nation from FEMA headquarters in Washington on Nov. 3, promising to cut red tape and bring the full force of FEMA to hard-hit residents.
"What I told the governors and the mayors is what I've been saying to my team since the start of this event, and that is we don't have any patience for bureaucracy, we don't have any patience for red tape, and we want to make sure that we are figuring out a way to get to yes, as opposed to no, when it comes to these problems," Obama said.
On Nov. 15, Obama came to Staten Island, where he repeated his pledge.
A top FEMA official said agency workers understand the public's frustration, but he defended their performance in the wake of the storm.
"We have already put $700 million directly in the hands of victims," Michael Bryne, federal coordinating officer for FEMA told FoxNews.com. "In my opinion, I think that reflects a minimum of red tape.
"In the days after, we surveyed the damage from helicopter and for every home we found completely damaged, we immediately sent a couple months' of rent assistance before we even had inspectors on the ground," he added.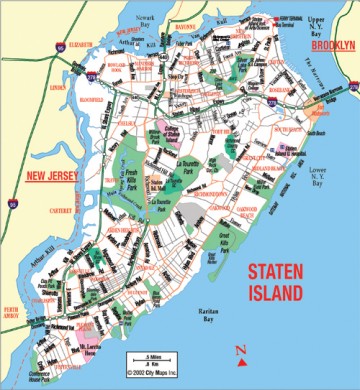 Byrne said more help his on the way, adding that the agency has 3,000 families enrolled in its shelter program and is working with the city on providing a rapid repair program to help get people back in their homes while longer-term repairs are completed.
Thursday's meeting was organized by Staten Island Borough President James Molinaro, many of whose constituents have been left without homes, food or clothing. The auditorium was so crowded that many people were turned away at the door. FEMA officials dutifully absorbed the gripes, took down contact information and promised to meet privately with homeowners.
But residents showed little confidence that the agency would help, and they said they've been left to fend for themselves.
"Our communities are helping," said Nicole Chati, to cheers from the audience. "Red Cross comes by, rings our bell, says, 'Come get a hot meal' and leaves. We help each other and that's what we want to do, but we need your support.
"These people are frustrated," she added. "Lives were lost. My house … I can rebuild my house. My neighbor is dead."
Aiman Youssef, who has been living in a tent since the storm hit, said he is worried about health risks.
"The air quality in this town is very bad," he said. "We are sick. What can you do about it?"