Editor's Note – It is the second incident that can be directly attributed to the Journal News gun map story. This is likely not the last, and the paper needs to be held criminally liable, if not, they should be civilly sued.
Journal News map-listed guns, permits stolen from New City home, cops say
By TIMOTHY O'CONNOR  timothy.oconnor@cablevision.com – Newsday
Two handguns and two pistol permits were stolen from the New City home of a man whose name and address are listed on the website of a local newspaper as possessing gun permits, police said.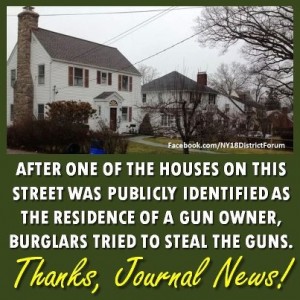 The thieves ransacked the house Wednesday night, breaking into two safes on the home's third floor and stealing a third safe. The guns were in the stolen safe, police said.
Clarkstown police said they had no evidence the burglary was connected to the controversial map.
"The burglary is still under investigation and there are no facts to support this correlation at this time," Clarkstown Sgt. Joanne Fratianni said in a statement. "If the investigation develops further information, it will be released accordingly."
Family members at the burglarized home refused to speak Thursday and police are keeping reporters off the property on the quiet suburban street.
"At this early point in the investigation, we believe it is a random crime and the home was not targeted," Clarkstown Det. Lt. Charles Delo told News12.
The burglary comes less than a week after a White Plains homeowner who, too, was listed on the Journal News website as having gun permits, arrived home to find his home burglarized with jewelry missing and an attempted break-in of his gun safe. The thieves were not successful and no guns were stolen.
White Plains Police Commissioner David Chong said Monday it was "premature" to connect that burglary to the website listing but said it was part of the police investigation.
The guns that were stolen in New City included a .45 caliber Colt revolver and a .22 caliber Iver Johnson. Cash, U.S. Savings Bonds and jewelry were also stolen.
The homeowner's stolen pistol permits were for Rockland and Orange counties.
The Journal News has come under fire from elected officials and police groups for posting the interactive map Dec. 23 that showed the names and addresses of all legal gun permit holders in Westchester and Rockland counties.
The newspaper has not responded to numerous calls for comment.
The head of the White Plains Police Benevolent Association, Robert Riley, has been one of the fiercest critics of the Journal News map, saying it puts the lives of police and ordinary citizens in potential danger.
"The Journal News printed a virtual treasure map for criminals," Riley said Monday. "It lets the bad guys know who is vulnerable, due to not having a gun permit, and where to go if they wanted a gun."
with Sarah Armaghan
_______________
See more on this and related stories and videos:
MORE: The Journal News gun map controversy: Complete coverage | Rob Astorino letter to The Journal News
VIDEOS: Journal News gun map debate rages on | Cops: Take down the gun permit map | Police: Fecal matter sent to Journal News employee