Editor's Note – First it was Solyndra, well at least as far as we know, then just this week it is Abound Solar, and then today, its GM laying off workers. You ask why? It's obvious, anything the current administration touches with bail-outs or guaranteed loans for green-energy projects, count on failure. This time, its because that Chevy "Volt" thing we paid for is not selling.
How many more FAILS are on the horizon?
Volt production on hold for 5 weeks
Detroit Free Press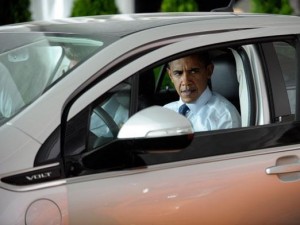 General Motors has told 1,300 employees at its Detroit Hamtramck that they will be temporarily laid off for five weeks as the company halts production of the Chevrolet Volt and its European counterpart, the Opel Ampera.
"Even with sales up in February over January, we are still seeking to align our production with demand," said GM spokesman Chris Lee.
Lee said employees were told Thursday that production would put on hold from March 19 to April 23.
The Chevrolet Volt, an extended-range electric car, is both a political lightning rod and a symbol of the company's technological capability.
Chevrolet sold 1,023 Volts in the U.S. in February and has sold 1,626 so far this year.
In 2011, Chevrolet sold 7,671 Volts, but fell short of its initial goal of 10,000.
GM had planned to expand production of its Volt plug-in hybrid to 60,000 this year, with 45,000 earmarked for the U.S.
Last fall, the GM and the National Highway Traffic Safety Administration spent several weeks trying to explain why two Volts whose batteries were punctured caught on fire after sitting around for at least a week.
NHTSA determined that the range-extended electric Volt is as safe as any gasoline-powered vehicle on the road.
GM said on Jan. 5 that it would improve the structure and battery-coolant system of the Volt sedan to protect it better against fires after crashes.
The incident also was the subject of a congressional hearing in January that included testimony from GM CEO Dan Akerson.
"We did not design the Volt to become a political punching bag and that's what it's become," Akerson told Congress on Jan. 25.