Editor's Note – Its about proof, fraud, and eligibility – but they call it "birther-ism". More importantly, its about the 'rule-of-law', not the whim of the day, cult of personality, revision of the Constitution, or inconvenient facts to be hidden or amended. Here, Mark Steyn, as usual, gets to the core of the issue. Its about the 'shifting sands' of Obama's biography.
By Mark Steyn – Orange County Register
It used to be a lot simpler. As E.C. Bentley deftly summarized it in 1905:
"Geography is about maps. But Biography is about chaps."
But that was then, and now Biography is also about maps. For example, have you ever thought it would be way cooler to have been born in colonial Kenya?
Whoa, that sounds like crazy Birther talk; don't go there! But Breitbart News did, and it turns out that the earliest recorded example of Birtherism is from the president's own literary agent, way back in 1991, in the official bio of her exciting new author:
"Barack Obama, the first African-American president of the Harvard Law Review, was born in Kenya and raised in Indonesia and Hawaii."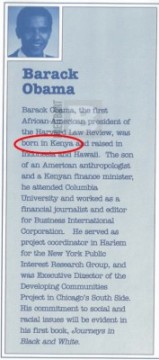 So the lunatic theory that Barack Obama doesn't meet the minimum eligibility requirements to be president of the United States was first advanced by Barack Obama's official representative. Where did she get that wacky idea from? "This was nothing more than a fact-checking error by me," says Obama's literary agent, Miriam Goderich, a "fact" that went so un-"checked" that it stayed up on her agency's website in the official biography of her by-then-famous client up until 2007:
"He was born in Kenya to an American anthropologist and a Kenyan finance minister."
And then in April 2007, someone belatedly decided to "check" the 16-year-old "fact" and revised the biography, a few weeks into the now non-Kenyan's campaign for the presidency. Fancy that!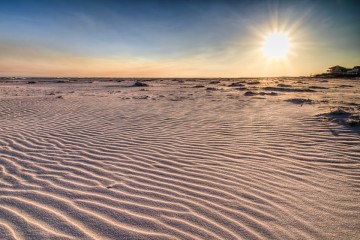 When it comes to conspiracies, I'm an Occam's Razor man. The more obvious explanation of the variable first line in the eternally shifting sands of Obama's biography is that, rather than pretending to have been born in Hawaii, he's spent much of his life pretending to have been born in Kenya.
After all, if your first book is an exploration of racial identity and has the working title "Journeys In Black And White," being born in Hawaii doesn't really help. It's entirely irrelevant to the twin pillars of contemporary black grievance – American slavery and European imperialism. To 99.99 percent of people, Hawaii is a luxury vacation destination and nothing else.
Whereas Kenya puts you at the heart of what, in an otherwise notably orderly decolonization process by the British, was a bitter and violent struggle against the white man's rule. Cool! The composite chicks dig it, and the literary agents.
And where's the harm in it? Everybody does it – at least in the circles in which Obama hangs. At Harvard Law School, where young Barack was "the first African-American president of The Harvard Law Review," there's no end of famous firsts: As The Fordham Law Review reported, "Harvard Law School hired its first woman of color, Elizabeth Warren, in 1995." There is no evidence that Mrs. Warren, now the Democrats' Senate candidate, is anything other than 100 percent white. She walks like a white, quacks like a white, looks whiter than white. She's the whitest white since Frosty the Snowman fell in a vat of Wite-Out. But she "self-identified" as Cherokee, so that makes her a "woman of color." Why, back in 1984 she submitted some of her favorite dishes to the "Pow Wow Chow" cookbook, a "compilation of recipes passed down through the Five Tribes families."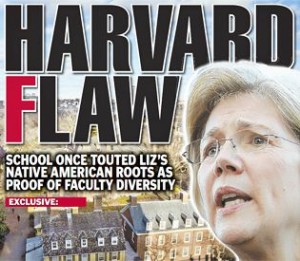 The recipes from "Elizabeth Warren – Cherokee" include a crab dish with tomato mayonnaise. Mrs. Warren's fictional Cherokee ancestors in Oklahoma were renowned for their ability to spear the fast-moving Oklahoma crab. It's in the state song: "Ooooooklahoma! Where the crabs come sweepin' down the plain." But then the white man came, and now the Oklahoma crab is extinct, and at the Cherokee clambakes they have to make do with Mrs. Warren's traditional Five Tribes recipe for Cherokee Lime Pie.
A delegation of college students visited the White House last week, and Vice President Biden told them: "You're an incredible generation. And that's not hyperbole, either. Your generation and the 9/11 generation before you are the most incredible group of Americans we have ever, ever, ever produced."
Ever ever ever ever! Even in a world where everyone's incredible, some things ought to be truly incredible. Yet Harvard Law School touted Elizabeth "Dances with Crabs" Warren as their "first woman of color" – and nobody laughed. Because, if you laugh, chances are you'll be tied up in sensitivity-training hell for the next six weeks. Because in an ever-more incredible America being an all-white "woman of color" is entirely credible.
Entering these murky waters, swimming through it like a crab in Mrs. Warren's tomato mayo, Barack Obama refined his own identity with a finesse that Harvard Law's first cigar-store Indian lacked. In 1984, when "Elizabeth Warren – Cherokee" was cooking up a storm, the young Obama was still trying to figure out his name: He'd been "Barry" up till then. According to his recently discovered New York girlfriend, back when she dated him he was "BAR-ack," emphasis on the first syllable, as in barracks, which is how his dad was known back in Kenya. Later in the Eighties, he decided "BAR-ack" was too British, and modified it to "Ba-RACK". Some years ago, on Fox News, Bob Beckel criticized me for mispronouncing Barack Obama's name. My mistake.
All I did was say it the way they've always said it back in Kenya. But Obama himself didn't finally decide what his name was or how to say it until he was pushing 30. In the shifting sands of identity, he picked his crabs carefully.
"I suppose he'd had the name ready for a long time, even then," says Nick Carraway in "The Great Gatsby." "His parents were shiftless and unsuccessful farm people – his imagination had never really accepted them as his parents at all. The truth was that Jay Gatsby of West Egg, Long Island, sprang from his Platonic conception of himself… . So he invented just the sort of Jay Gatsby that a seventeen-year-old boy would be likely to invent, and to this conception he was faithful to the end."
In a post-modern America, the things that Gatsby attempted to fake – an elite schooling – Obama actually had; the things that Gatsby attempted to obscure – the impoverished roots – merely add to Obama's luster. Gatsby claimed to have gone to Oxford, but nobody knew him there because he never went; Obama had a million bucks' worth of elite education at Occidental, Columbia and Harvard Law, and still nobody knew him ("Fox News contacted some 400 of his classmates and found no one who remembered him"). In that sense, Obama out-Gatsbys Gatsby: His "shiftless and unsuccessful" relatives – the deportation-dodging aunt on public housing in Boston, the DWI undocumented uncle, the $12-a-year brother back in Nairobi – are useful props in his story, the ever more vivid bit-players as the central character swims ever more out of focus, but they don't seem to know him either. The more autobiographies he writes, the less anybody knows.
Like Gatsby presiding over his wild, lavish parties, Obama is aloof and remote: let everyone else rave deliriously; he just has to be. He is, in his way, the apotheosis of the Age of American Incredibility. When just being who you are anyway is an incredible accomplishment, Obama managed to run and win on biography almost entirely unmoored from life. But then, like Gatsby, he knew a thing or two about "the unreality of reality."