By Denise Simon, Associate Editor, SUA
It appears that the United States worked with the Mexican Marines for many months to affect the capture of "El Chapo" Guzman who was taken without resistance in a condo he owned in Mazatlan, Mexico.
A senior U.S. law enforcement official said Joaquin "El Chapo" Guzman was taken alive overnight in the beach resort town. The official was not authorized to discuss the arrest and spoke on condition of anonymity.

Guzman, 56, faces multiple federal drug trafficking indictments in the U.S. and is on the Drug Enforcement Administration's most-wanted list. His drug empire stretches throughout North America and reaches as far away as Europe and Australia. His cartel has been heavily involved in the bloody drug war that has torn through parts of Mexico for the last several years.

Known as a legendary outlaw, Mexico's Osama bin Laden and the world's most powerful and elusive drug lord, Guzman had been pursued for weeks, the official said. (read the rest at the CSMonitor.)
Now, there are many items that remain quite chilling in this case, not the least of which are his sons who are desperately awaiting further orders to continue to run the cartel and global narcotics network. (From Borderland Beat)
On twitter accounts, allegedly belonging to Ivan Achicaldo and Alfredo Guzman, sons of El Chapo, the two expressed their thoughts regarding the apprehension of their father, along with a couple of promises to settle accounts with those who are responsible for his capture.

Both indicate that they are waiting for "orders".

The Twitter pages found at @ IvanArchivaldo and @ _AlfredoGuzman_ Chapo's sons express their anger, grief, and their eagerness for revenge. Perhaps an apology from them to their father is in order, since authorities gleaned photographs and information from their social networks pages to assist in the capture.

@ _AlfredoGuzman_ has published the following messages:

"This is not the end"

"My father has not perished, the Guzman era is just beginning"

"I just want to communicate that we are not losers, the cartel is my father's and will always be. GUZMAN LOERA FOREVER"

"and we are children of the Chapo, not like those fucking accounts that boast, we are humble like my father"

"For my father, whatever will be, will be but no one is going to help as my father helped, I'm going to hold accountable those who should and will pay ."

"The word is always the word, you should learn it because it is worth more than a signature."

"Do not deny that I cried, also men mourn what we love most, God bless you father."

'One does not appreciate what you have until you don't have it"

@IvanArchivaldo has published the following messages:

"Awaiting orders, a big hug to my father" (retweeted by Alfredo)

"My father's words… "He who is not brave enough to take risks, is not going to achieve anything in life" (@ElChap0Guzman)

@ElChap0Guzman the twitter page reportedly belonging to Chapo,

On this page there is a mix of tweets, from the romantic, the poetic, animal and child advocacy, he laughs at Miley Cyrus and refers to the hanged alleged Zetas in Nuevo Laredo as "piñatas".

In one tweet, he posts a graphic foto of a bullfighter as he is having his eye gorged by the bull's horn, in a complete impalement of the eye socket.

His tweet refers to it as "Karma".

In another he depicts a foto of a La Tuna "welcome" sign, he writes how "at ease" he is while at his ranch.

One tweet was a photograph of a child "orange vendor". Chapo's caption:

"When he was a child he had no limits. He who perseveres, achieves" Chapo himself was an orange vendor as a child. (Read the rest and see the images here.)
To begin to understand how Guzman operated and the major threat he imposed on America, this video must be seen:
%CODE%
Globally, Guzman operated without any impediment worldwide to the point where the U.S. government (associated agencies including the FBI, DoJ, and DEA) actually provided assistance to the Sinaloa cartels in an effort to create a turf war with rival cartels, where one is supported to take down others. (From Fusion.Net)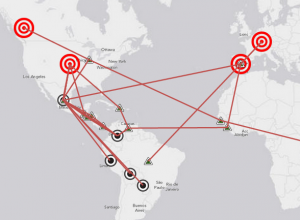 Joaquín Guzmán Loera or "El Chapo" has taken the Sinaloa Cartel from a regional operation to a worldwide criminal enterprise. Yearly profits for meth, marijuana and cocaine trade are estimated at $3 billion. The success of Chapo's international business is built on a system of criminal franchises that run different parts of the drug trade. These interactive maps show some of the known routes he uses and the renowned criminals he's been linked to.

See the interactive maps and a video here.
Add into the U.S. government assistance to the Sinaloa cartels – weapons.
This is hard-headed, cynical law enforcement; let some drugs in to keep more drugs out. But seeking out and negotiating an "arrangement" with these cold blooded monsters is sickening. We've seen how totally ruthless and barbaric their methods are and how they don't care if innocents are caught in the crossfire or not.
This information sheds further light on the Fast and Furious caper.
Apparently, the DEA didn't care how many guns ended up in the hands of Sinaloa cartel members – didn't care who they killed, including border agents. They were only concerned about guns that ended up in rival cartel hands. The story validates reports from last August – totally ignored by most media – that Fast and Furious was meant as a program to supply arms to Sinaloa.
While hundreds of thousands have been killed in Mexico by the Sinaloa Cartel, we cannot deny the fact that some on our own soil have either died or gone missing. But sadly, this points to the highest levels within our own Justice Department headed by Eric Holder, who does have blood on his hands.
There are numerous U.S. courts now seeking extradition of Guzman from Mexico, but with the proven confidential secret deals made with the Sinaloa cartel and their operatives for immunity, will Eric Holder even work earnestly for extradition, or will Eric Holder leave office before this case comes to any U.S. court?
*************
Additional court documents are found here: