Dr. Dave Janda Interview with MG Paul Vallely U.S. Army (ret.) on the Deep State Con Job and Stolen Valor: Blumenthal
Editors Note:
First there was Gorsuch then there was Kavanaugh. Each time the Stolen Valor liar makes his contribution for a reason. I wonder what they missed.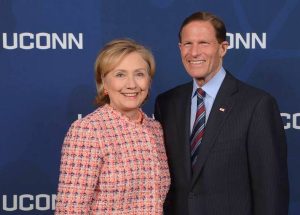 An open letter from 14 Medal of Honor recipients to Sen. Blumenthal over his hypocrisy on Gorsuch
Dear Sen. Richard Blumenthal,
You recently called upon your Senate colleagues to subject Judge Neil Gorsuch's record to "extreme vetting," questioning both his qualification and biography. The Senate certainly has the right and obligation to closely review any nominee for the United States Supreme Court. Conversely, it is our right as Americans and veterans to scrutinize your hypocrisy in doing so.
We are veterans of the Vietnam War. We fought alongside our brothers in arms, many of whom died or were gravely injured there. We saw the treatment meted out on us and our fellow military personnel upon our return, yet we never questioned our commitment to our nation's freedom. But perhaps more relevant to this discussion is that we know you were not there with us.
The fact you repeatedly and consistently claimed to have served in Vietnam is a gross case of stolen valor in our opinion. You obtained at least five military deferments between 1965 and 1970, at least two of which were seemingly political favors to you so that you could avoid joining us in a war zone. Here are just a few examples where it appears that you have chosen to buttress your political resume by shamefully inflating your record of military service:
In 2003, you apparently stated, "When we returned [from Vietnam], we saw nothing like this [a public outpouring of support for deployed military personnel]."
In 2008, the New York Times reported you said, "We have learned something important since the days I served in Vietnam …"
At a Vietnam War memorial in 2008, it is reported you stated, "I served during the Vietnam era … I remember the taunts, the insults, sometimes even the physical abuse."
We recognize that military service of any kind is valuable to the protection of our nation's freedom. There is no shame in engaging in "Toys for Tots" campaigns, recycling efforts, or assisting in the improvement or construction of various facilities, which appears to be a fair description of the bulk of your duties during the Vietnam War.
What is offensive to those who fought in a most brutal conflict, some of us who were captured and tortured by our enemy, is any comparison of those most brutal experiences to the ones of people like you who never even sniffed the air in Vietnam.
You should be proud that you shared a uniform with so many brave souls who endured the hardships of war, but instead you chose to attempt to deceitfully and craftily join their ranks with your intentionally vague statements and false claims. Quite simply, it is impossible to "misspeak" about having seen a war.
Valor is too uncommon a commodity, and too precious a virtue, to be stolen by those who have not paid the high price for freedom. We recognize that some concerns over any appointee, especially the Supreme Court, are honest and legitimate.
You, sir, are neither. If you ever had a sense of duty, if ever you respected the service and sacrifice of others, then please recognize your duty now:
Sen. Blumenthal, "take your seat"!
Respectfully,
Retired Command Sgt. Maj. Bennie Adkins, U.S. Army, Auburn, Ala.
Retired Col. Don "Doc" Ballard, U.S. Army, Grain Valley, Mo.
Retired Maj. Gen. Pat Brady, U.S. Army, New Braunfels, Texas
Retired Col. Bruce Crandall, U.S. Army, Manchester, Wash.
Retired Sgt. 1st Class Sammy Davis, U.S. Army, Freedom, Ind.
Retired Col. Wesley Fox, U.S. Marine Corps, Peoria, Ill.
Retired Col. Harold Fritz, U.S. Army, Peoria, Ill.
Retired Maj. Gen. Jim Livingston, U.S. Marine Corps, Mount Pleasant, S.C.
Retired Command Sgt. Maj. Bob Patterson, U.S. Army, Pace, Fla.
Retired Sgt. Maj. Kenneth Stumpf, U.S. Army, Tomah, Wis.
Retired Maj. James Taylor, U.S. Army, Trinity Center, Calif.
Retired Lt. Mike Thornton, U.S. Navy, Dallas
Retired Col. Leo Thorsness, U.S. Air Force, St. Augustine, Fla.
Retired Col. Jay Vargas, U.S. Marine Corps, San Diego
The signatories are all Vietnam-era Medal of Honor recipients. Their Medal citations can be read at www.cmohs.org.
If you would like to write an op-ed for the Washington Examiner, please read our guidelines on submissions here.
About Dr. Dave Janda:
David H. Janda, M.D. is an orthopedic surgeon based in Ann Arbor, Michigan and a member of a nine-member orthopedic surgery group. In addition, Dr. Janda is the director and founder of the Institute for Preventative Sports Medicine, based in Ann Arbor, Michigan, which is the only health care cost containment organization of its kind in North America. Dr. Janda's academic career has been highlighted by many awards and distinctions.
Dr. Janda was appointed by the former Bush Administration to the Board of the National Center for Injury Prevention and Control.
He also was appointed to the National Institute of Health Trauma Research Task Force. Governor John Engler has appointed him to the Governor's Council on Health, Fitness and Sports for the State of Michigan, as well as Chairman of the Advisory Group on the Prevention of Sports Injuries. Dr. Janda is the author of The Awakening of a Surgeon (Pictured, right) and The Power of Prevention Handbook which chronicle his efforts in the field of preventative Medicine.
The books he has authored chronicle his efforts in the field of preventative sports medicine and outlines his approach on how to create a more available and more affordable health care system. He and the book, "The Awakening of a Surgeon", have been featured guests on the Oprah Winfrey Show and his research and prevention based studies have been featured on many network television, radio, newspaper and magazine presentations. These presentations have empowered the public by providing families and communities prevention information that can be used on an immediate basis to become safer and healthier.
With his Operation Freedomon WAAM Talk 1600 radio show, Dr. Janda brings to the operating table information the mainstream media either ignores or is afraid to bring to light. Every week, Dave will bring featured guests to WAAM's Operating Room that have a background in health care, economics, finance, and geo-politics discussing current events. When the listener "leaves the operating room," they are better off and on the road to a better life.