Editor's Note – The charade that is Obama's assault on Daesh (ISIS), meant to degrade and destroy is obvious now – it is just a political ploy to get him through the midterms. Once again, Obama and team place politics ahead of policy, and sadly, American and allied national security.
In addition to the article below that shows that Daesh is ready to ruin Baghdad's days ahead, especially the lifeline international airport, they are now poised to take Kobani in Syria on the Turkish border. The experts believe that if they take it, there will be a bloodbath amongst the refugee population if the Turks do not intercede.
The Turks are poised in a defensive front, but will they take offensive action?
Intense street fighting raged in the Syrian city of Kobani Monday as ISIS came closer to capturing a key area on the border with Turkey.
ISIS fighters planted their flag on a hill on the eastern side of Kobani, then punched through defenses to open up the route for more troops, one witness inside the city told CNN.

CNN crews on Monday also spotted what appeared to be the black flag of ISIS flying from a hilltop on the eastern side of the city. The flag was farther east into the city from one shown flying atop a building in video from Reuters and also seen by the CNN crews.

Many Kurdish forces defending the city were wounded and killed, and many ISIS fighters were also killed as clashes spread from street to street, the witness said.

The fall of the city would carry huge symbolic and strategic weight, giving ISIS sway over an uninterrupted swatch of land between the Turkish border and its self-declared capital in Raqqa, Syria, 100 kilometers (62 miles) away.

The Turkish military, which has bulked up its defenses along the border in recent days as the fighting has flared, blocked people fleeing the embattled city from crossing the border. (Read the rest here.)
America – take note, Obama needs to take ownership for all of the carnage – he earned it!
ISIL Within Shelling Range of Baghdad Airport
Gaining ground in both Iraq, Syria
By Daniel Wiser  – Washington Free Beacon
The United States appears to be losing its fight against the Islamic State of Iraq and the Levant (ISIL or ISIS) in Iraq and Syria, experts say, as the jihadist group adapts to U.S. airstrikes and advances toward Baghdad and a strategic town on the Syrian-Turkish border.
McClatchy reported on Friday that ISIL had established an operational presence in Abu Ghraib, a town within miles of the capital Baghdad that could enable the militants to shell the Baghdad International Airport with artillery. The airport serves as a key transit point for Western embassies and houses a joint operations center with U.S. military advisers.
A Defense Department spokeswoman said there were no indications yet that ISIL had taken over Abu Ghraib.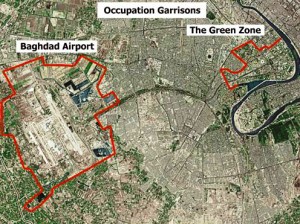 ISIL has also made significant gains in recent days in Iraq's western Anbar province, where it has seized the town of Hit and launched assaults on other military bases in the region. Hundreds of Iraqi soldiers have been captured, and U.S. and allied airstrikes appear to have failed to push back ISIL from its strongholds in Anbar.
In Syria, ISIL engaged in intense fighting on Monday with Kurdish forces in Kobani—a key town near the Turkish border that could grant Islamic militants new smuggling lines for fighters and supplies if they control it. U.S. airstrikes have also failed to relieve ISIL's siege of Kobani.
Additionally, the Wall Street Journal reported on Sunday that ISIL fighters have adopted new tactics to evade airstrikes and retain control of territory, including avoiding the use of cell phones and radios, removing their leaders and weapons from bases in Syria, and blending in with the civilian population.
Wayne Hsieh, an associate professor at the U.S. Naval Academy and a former State Department official who served in Iraq, said in an interview that "things are not going well."
"The problem at the end of the day is how seriously [President Obama] takes this," he said.
"Is this the president's response to political pressure placed on him after the execution of [American journalist James] Foley, or does he really want to degrade and destroy the Islamic State? If he really does want to degrade and destroy the Islamic State, I think you're going to have to see escalation, but the situation on the ground militarily is so problematic."
Hsieh said he did not believe Baghdad was close to falling to ISIL, but added that sustained attacks on the airport there would pose a serious threat to supplies for Western embassies and the U.S. military personnel that are stationed there. He questioned why the United States had not provided arms to the YPG, the Syrian Kurdish forces battling ISIL in Kobani that previously helped save tens of thousands of Yazidis in Iraq.
Turkey, whose parliament voted last week to authorize strikes in Iraq and Syria, still has not aided the Syrian Kurds because of their ties to the PKK, a group that both Ankara and Washington have designated as a terrorist organization.
Hsieh noted that the U.S. military and its allies are largely using bases in the Persian Gulf to strike ISIL in Iraq and Syria, meaning their planes have to cover longer distances and must spend more time refueling than if they had bases in Iraq. Operating from Iraq would likely require more U.S. troops on the ground to secure the bases.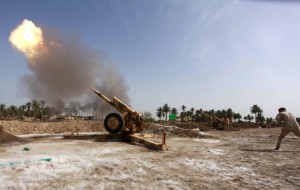 Navy officials have said they are relying on ships and aircraft that are already in the region and do not plan on deploying another carrier due to the limited nature of the strikes. Those limitations could be contributing to the inability so far of the airstrikes to uproot ISIL from its positions, Hsieh argued.
"That just shows you how not seriously they're taking this," he said.
U.S. forces also used Apache AH-64 attack helicopters for the first time over the weekend to strike ISIL militants near Fallujah. Helicopters are more vulnerable to small arms fire and missiles than warplanes.
"[The Obama administration's] sort of doing this slow-motion escalation," Hsieh said. "I don't know if they're thinking all this through."
Commander Elissa Smith, a Pentagon spokeswoman, defended the Obama administration's strategy against ISIL in an emailed statement.
"Our airstrikes have been effective in achieving our goal of degrading and ultimately destroying ISIL," she said. "It is important to remember that this is a long campaign, and we have been clear that it will take time to roll ISIL back."
Smith added that there will soon be about 1,600 military personnel in Iraq, but "the Defense Department has said that there won't be any ground combat forces and we don't comment on future operations."
However, some analysts say Obama's strategy still does not match his stated goal of eliminating ISIL.
Michael Rubin, resident scholar at the American Enterprise Institute and a former Pentagon adviser on Iran and Iraq during the George W. Bush administration, said in an email that the United States' current anti-ISIL efforts are "long on symbolism and short on substance."
"To avoid targeting ISIL forces attacking Kobani is like Franklin Delano Roosevelt declaring war on Japan, and then concentrating the American attacks on Argentina," Rubin said. "What we have is war as a neighborhood organizer would fight it, not as anyone who knows anything about the military or the Middle East or simply the real world would advise."