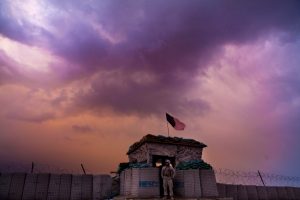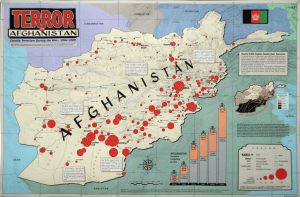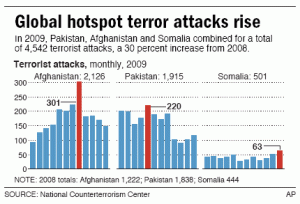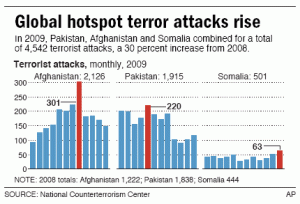 "Creating A 12 To 24-Month Policy Bridge For A New Afghanistan Strategy"
By Lawrence J. Sellin, Colonel, United States Army (ret.)
Up until now his advisors have offered President Trump two choices for failure in Afghanistan, one quick, withdrawal, and one slow, a continuation of the failed strategy of the last sixteen years.
By now it should be apparent to all knowledgeable people that U.S. objectives cannot be achieved in land-locked Afghanistan where Pakistan, whose Afghanistan objectives differ from ours, controls the supply of our troops and the battle tempo through its support of the Taliban and Haqqani network.
An alternative is to provide the President with a 12 to 24-month plan that bridges the gap between the present untenable strategy to a longer term solution.
That is, rather than tweak the current strategy, begin to address the core problem, a strategic environment that has made success of the current strategy impossible.
Within the next two years, the Trump Administration should formulate a strategy that exploits Pakistan's pain points, one which carves out roles for the Department of Defense, Department of State and Congress.
While preventing a further deterioration in the security situation in Afghanistan, different permutations and degrees of the following actions should be pursued, both as short term leverage against Pakistan and, ideally, to create a regional strategic environment more conducive to U.S. interests.  That is, it is not the Taliban and the Haqqani network that need to be brought to the negotiating table, but Pakistan.
Foreign aid to Pakistan – reduce it to a trickle. Even Pakistan's former ambassador to the United States says that a tougher approach needs to be adopted toward his country: "The Bush administration gave Pakistan $12.4 billion in aid, and the Obama administration forked over $21 billion. These incentives did not make Pakistan more amenable to cutting off support for the Afghan Taliban."
Major Non-NATO Ally (MNNA) status – cancel all or part of it. As a MNNA country, approved by President George W. Bush in 2004, Pakistan became "eligible for priority delivery of defense material, an expedited arms sale process, and a U.S. loan guarantee program, which backs up loans issued by private banks to finance arms exports. It can also stockpile U.S. military hardware, participate in defense research and development programs, and be sold more sophisticated weaponry."
Declaration of Pakistan as a state sponsor of terrorism – advance the House bill through Congress. On September 20, 2016, Congressman Ted Poe (TX-02), the Chairman of the House Subcommittee on Terrorism, along with Congressman Dana Rohrabacher (CA-48), introduced H.R.6069, the Pakistan State Sponsor of Terrorism Designation Act. According to Chairman Poe: "Not only is Pakistan an untrustworthy ally, Islamabad has also aided and abetted enemies of the United States for years.  From harboring Osama bin Laden to its cozy relationship with the Haqqani network, there is more than enough evidence to determine whose side Pakistan is on in the War on Terror."
Durand Line – Pakistan depends on it – question its legitimacy. The Durand Line is the arbitrary 1896 border drawn between Afghanistan and Pakistan by British Diplomat Sir Mortimer Durand. Pashtun lands have been artificially divided and Pakistan is using its Pashtun population as Taliban cannon fodder.
China-Pakistan Economic Corridor – undermine it. Pakistan has significant economic incentive to exclude western countries from maintaining any influence in Afghanistan. It is called the China-Pakistan Economic Corridor (CPEC), which is part of China's larger Belt and Road Initiative that aims to connect Asia through land-based and maritime economic zones. CPEC is an infrastructure project, the backbone of which is a transportation network connecting China to the Pakistani seaports of Gwadar and Karachi located on the Arabian Sea. Gwadar is a potential Chinese naval base at the mouth of the Persian Gulf, which will complement another Chinese naval base in Djibouti at the mouth of the Red Sea creating two critical strategic choke points.
Ethnic separatism – encourage it – Pakistan is the Yugoslavia of South Asia. Probably the greatest of all potential Pakistani pain points is ethnic separatism. Pakistan was founded on the religion of Islam and is composed primarily of five ethnic groups that never coexisted, the Bengalis, Punjabis, Pashtuns, Sindhis and Baloch. Pakistan's Islamic nationalism program was specifically designed to suppress ethnic separatism, an effort that eventually led to the proliferation of Islamic terrorist groups within its borders and their use as instruments of Pakistan's foreign policy. Exploitation of ethnic separatism within Pakistan, such as in Balochistan, remains an option. That is, fight an insurgency with an insurgency.
A longer term solution for Afghanistan was described previously in the Daily Caller, one based on counterterrorism rather than counterinsurgency, providing a cost-effective, flexible and "conditions-based" strategy advocated by retired U.S. Army Major General Paul Vallely in a Diana West article.
"Such a strategy, Vallely explained, relies on 'the maximum use of unconventional forces,' such as Navy SEALS and other special forces, who can be deployed as needed from what are known in military parlance as 'lily pads' — outposts or jumping-off points in friendly countries (Israel, Northern Kurdistan, India, Philippines, Italy, Djibouti … ) and from U.S. aircraft carrier strike groups. Such strike groups generally include eight to 10 vessels 'with more fire power,' the general noted, 'than most nations.' These lily pads become 'bases we can launch from any time we want to,' eliminating the need for massive land bases such as Bagram Air Base in Afghanistan, by now a small city of 20,000 American personnel who continuously need to be supplied and secured at enormous expense."
In terms of Afghanistan strategy, it is time to build a bridge to somewhere.
From 2009: