COVID Relief Should Protect American—Not Chinese—Defense Companies | Opinion
You know there's a problem in the federal government when bureaucrats happily give millions of COVID-19 relief dollars to Chinese defense companies but shut out funding to key American businesses. Unfortunately, that's the problem the country now faces.
Between $192 to $419 million of the nation's COVID stimulus funds have gone to more than 125 companies that Chinese interests either own or have a significant investment stake in. At least eight of these beneficiaries have a direct tie to the People's Liberation Army. This concerning list includes Continental Aerospace Technologies, a state-owned defense company that received up to $10 million. Two subsidiaries of China's HNA Group, a Fortune 500 company involved in aviation and financial services, received up to $1 million each.
Why are our nation's procurement leaders allowing Chinese defense companies to receive more funding than many of their U.S. counterparts?
Part of the reason for this paradox is the new, dangerous movement among partisans in Congress to extend the "Defund the Police" movement to the Pentagon. In the current deliberations over the 60th Annual National Defense Authorization Act, Sen. Bernie Sanders (I-VT) has laid bare this movement's intentions, writing an op-ed in Politico entitled, "Defunding the Pentagon: The Liberal Case." These dangerous, partisan defunding initiatives caused Senate Majority Leader Mitch McConnell (R-KY) to quip on the Senate floor, "We've moved on from defunding local police to defunding the United States Armed Forces. Maybe we'll be sending social workers on overseas deployments, when they aren't too busy responding to violent crimes."
Get your unlimited Newsweek trial >
One would think that Democrats would find taxpayer money benefiting the People's Liberation Army a bigger problem than it being used to fund the U.S. military. Curiously, however, few—if any—have voiced opposition on that front.
Big government mandates have also contributed to this inexcusable disparity between funding for certain Chinese and American companies. Most of the problem comes from the Small Business Administration's "affiliation rule," which prevents any company owned by private equity from receiving COVID-19 relief. That's a problem, considering that private equity companies own many of the mission-critical suppliers to the U.S. military that are struggling during this pandemic.
In a recent statement to The New York Times, Bharat Ramamurti, a former staffer for Sen. Elizabeth Warren (D-MA) and now serving on the congressional committee overseeing the COVID-19 relief, did not mince his words in the reasoning for their exclusion. Ramamurti said private equity firms "do fabulously well when their risky bets pay off," and that "they should absorb risks when things go badly."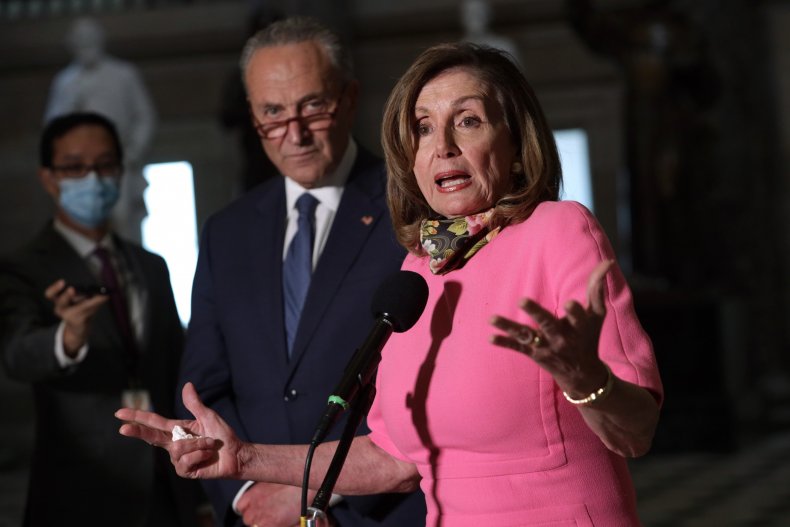 Get your unlimited Newsweek trial >
The U.S. government's funding of Chinese defense companies at their American competitors' expense comes while China is increasing its military capabilities at an alarming rate. According to Michèle A. Flournoy, a former undersecretary of defense for policy, China now possesses the capabilities to attack our weapons systems through advanced electronic welfare, cyber-capabilities and precision-guided missiles. American forces in the Pacific are also reportedly "highly vulnerable" to attacks from the emboldened communist regime.
Thankfully, a coalition of 16 senators, including Cory Gardner (R-CO), John Cornyn (R-TX), Marco Rubio (R-FL) and Todd Young (R-IN), seems to be working to end this harmful funding discrepancy between certain Chinese and the U.S. contractors. They wrote an August 5 letter to McConnell and Senate Minority Leader Chuck Schumer (D-NY), asking them to "consider provisions to support and provide flexibility for businesses across the aviation industry," such as airport concessionaires and aviation manufacturing.
If a company's connection to China's communist regime does not factor into its eligibility for stimulus funding, neither should a U.S. defense firm's connection to private equity. To weather this unprecedent public health and economic crisis, all struggling U.S. businesses should receive the relief that they need—especially when their continued operations remain crucial for protecting America's safety and security.
Some of these senators are even pushing a step further to combat the alarming amount of assistance that Chinese defense firms receive from government bureaucrats and procurement officers.
Gardner, for example, recently proposed America First amendments to the NASA Authorization Act of 2019. The amendments would require the Government Accountability Office to review all of the aerospace contracts that the federal government has with entities affiliated with the People's Republic. Not only would these amendments prevent Beijing from compromising U.S. intellectual property and military intelligence, but they would also stop these foreign companies from taking predatory actions that harm the continued operations and existence of those in the U.S.
The fight for American military superiority shouldn't disappear because of a pandemic. Here's hoping that Congress works to combat the government's disparity in treatment between certain U.S.- and Chinese-connected defense suppliers before it's too late.
Paul E. Vallely is a retired U.S. Army major general who serves as a senior military analyst for Fox News. Gen. Vallely is the founder and chairman of the Stand Up America US Foundation.
The views expressed in this article are the writer's own.