Editor's Note – Once again, SUA would like to point out to our readers that it is vitally important to do just a small amount of research when one hears some rosy picture being painted by politicians, especially about the economy and jobs. When one hears about a banner 'Black Friday', its easy to say: Good News!
But when you peel back the top layer, you find out that one reason for the supposed great number of Christmas sales was the fact that people are scared, how so?…by the product they choose over toys to buy, in record numbers, and at all times, the Christmas season.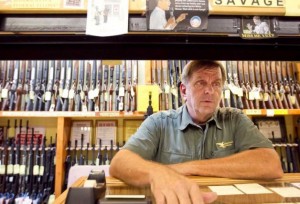 When you have only so many dollars to spend, and you decide between food, or toys…or dare we say…guns and ammo…that speaks volumes. What are we afraid of? Ahem, people are afraid of total chaos…an economy about to completely go to the land of the 'unexplained', at least on a political basis.
The theme this year is…2012, are the stories true? Or is it a case of the self-fulfilling prophecy of gloom and doom? With so many 'trigger' points across the globe and at home, people are scared – guns'n ammo scared!
Those who wish to take advantage of such talk…will indeed take advantage, its the power they crave. Watch people like Iran's Ahmadinejad…the original "12'er", planning on the Mahdi arriving, in a world of chaos. They are planning on it, predictions or tales, either true or not, they plan to make it true!
When you read this article, dig beneath the suppositions as well; just like other numbers, the story is hidden beneath. They are grasping at straws, because they have no numbers on who was buying, but be assured, they are buying…legally!
This is not Fast & Furious at the border, these are your neighbors, and just maybe, its not about criminals, maybe its about who has the power – read – martial law someday…coming to a store near you?
FBI: Holiday gun sales at record levels
Background checks required to buy firearms
By Carol Cratty CNN
December holiday shoppers were not just interested in buying the hottest electronics and toys — they also were purchasing record numbers of guns, according to the latest FBI figures on background checks required to buy firearms.
With a few days left in December, the FBI reports the number of background checks has already topped the previous one-month record — set only in November — of 1,534,414 inquiries by gun dealers to the National Instant Criminal Background Check System also known as NICS. Almost half a million checks were done in just the last six days before Christmas.
Two days before Christmas, NICS ran 102,222 background checks, which was the second-busiest day in history. The one-day record was set this year on Black Friday, the big shopping day following Thanksgiving, with 129,166 searches. By comparison, the previous one-day high was set November 28, 2008, when gun dealers made slightly less than 98,000 requests for background searches.
It's not possible to tell exactly how many guns have been purchased because buyers often take home more than one gun. But most people pass the background checks. Only 1.3% of the searches result in people being denied permission to buy a weapon, said FBI spokesman Steve Fischer.
FBI officials did not offer a theory on the spike in gun sales. It's also not clear how many of the background checks were for people who never had owned guns before and how many were for gunowners adding to their collections.
The National Rifle Association says the figures indicate more people feel they need guns for self defense.
"I think there's an increased realization that when something bad occurs, it's going to be between them and the criminal," NRA spokesman Andrew Arulanandam told CNN. Arulandandum said Americans realize police cannot be everywhere there's trouble and also that some officers are being laid off due to budget cutting.
The NRA spokesman also said an increased number of Americans are participating in skeet shooting and other gun sports.
A leading gun-control organization says repeat buyers most likely are responsible for the holiday surge in guns sales.
"The research we've seen indicates fewer and fewer people are owning more and more guns," said Caroline Brewer of the Brady Campaign to Prevent Gun Violence. "All the trends indicate the number of Americans who own guns has declined."
"It would appear because of fear-mongering by the NRA since (President Barack) Obama's election that people are adding more guns to their arsenals out of fear Obama and the Democrats will take away their guns, which is absurd," said Brewer.