Editor's Note – The Chicago School System issue is Wisconsin writ large. Please read the entire article below to glean the continuing lesson we are learning about public service employee and teacher unions. Isn't it about the children; that's the classic line from the left?
As we see here, the unions consistently support the very people they are dealing with in contract negotiations. Chicago has been a Democrat city for as long as anyone can remember (From Open Secrets):
Led by the American Federation of Teachers and the National Education Association, teachers unions contributed about $5.4 million to federal candidates, parties and committees during the 2008 election cycle.

As is true with unions in general, most of the money coming from this category goes to Democrats. Teachers unions contribute 95 percent of their funds to Democrats — a rate that's above average among labor unions across the board. [Read more Background]

Chicago Teachers Strike Proves What Scott Walker Knows All Too Well: Unions are Greedy and Unnecessary
By John Giokaris – PolicyMic
The Chicago Teachers Union (CTU) went on strike on Monday after a summer-long standoff in which they were demanding a 30% raise from Democratic Mayor Rahm Emanuel and the Chicago Public Schools (CPS) system.
After witnessing what Chicago's mayor, as well as both Democratic and Republican governors of Illinois and Wisconsinhave been dealing with between satisfying organized labor and trying to close widening budget deficits, one has to now examine two questions that have not yet been discussed in the public sphere: Are unions even necessary in America anymore? And have union bosses become greedy?
Juan Williams and Kyle Olsen produced an excellent documentary earlier this year chronicling what Mayor Emanuel has been going through in trying to reform the Chicago public school education system called, "A Tale of Two Missions," which I highly recommend watching.
When Emanuel came into office in May 2011, one of his most ambitious reforms was trying to extend the CPS school day. Until recently, the CPS school day was a mere 5 hours and 45 minutes – ranking last among the 10 largest cities in the U.S.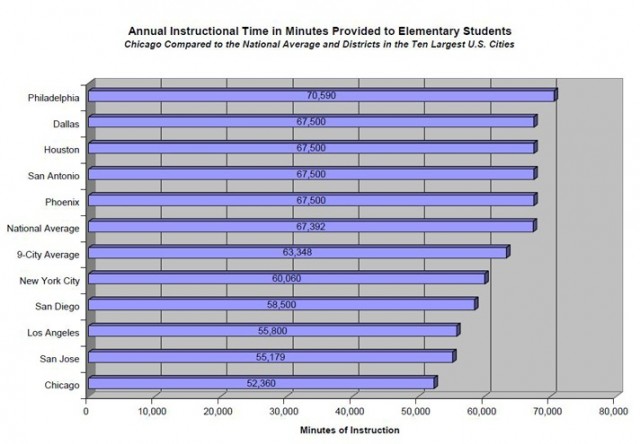 Emanuel argued that the city was unfairly "shortchanging" CPS students in instructional time, resulting in fewer future opportunities for them. He proposed extending the elementary school day to 7 hours and 30 minutes.
The CPS, in turn, then demanded a 30% salary raise. Keep in mind that CPS is a system where the average median salary for teachers is $76,450 a year, compared to the $53,976 made by the average private sector employee, where their graduation rate is barely half (55%), and where only 6 out of every 100 children in a system responsible for over 400,000 children will go on to earn a bachelor's degree by the time they are 26-years-old. A 30% raise would bring the average median salary to around $100,000 for a profession that works 170 days out of the year.
Meanwhile, the CPS system was facing a budget deficit of $665 million in the $5.73 billion 2012-2013 fiscal year. To close it, Emanuel had to raise property taxes to their absolute legal limit, cut costs anywhere possible, and completely drain all its cash reserves. That still left $46 million to give CPS teachers a 2% raise for the longer school day.
Emanuel even scaled back his longer school day proposal from 7 and a half hours to just 7 hours in an effort to negotiate, but CTU boss Karen Lewis wouldn't budge. So instead, Emanuel decided to hire an additional 477 teachers to fill in the longer school day with programs that are always on the chopping block such as music, art, foreign language, and physical education, which delivered students a longer school day without requiring CPS teachers to work longer hours.
Basically, there is no money left. Yet not only will the CTU not back down from its salary raise demands, but they're also asking for unprecedented administrative powers that are traditionally reserved for the CPS, including managerial rights, job security guarantees, and a scaling back of teachers evaluations based on standardized test scores.
And they're holding our students' futures hostage by striking for the first time in 25 years.
With all the talk from liberal circles of private sector and corporate greed, how come no one has yet discussed public sector union greed? Because that's what this is.
Meanwhile, Democratic Governor of Illinois, Pat Quinn, has his own problems with unions. Pension costs in Illinois are out of control. The state's total unfunded pension liability now stands at $203 billion, ranking Illinois as the worst funded pension system in America. Illinois also owes $43.8 billion more than the net value of all its assets combined, also leaving us with the worst deficit in the nation, again due largely to our pension system. This has resulted in Illinois seeing its credit rating cut repeatedly by all major credit rating agencies, ranking us … you guessed it, dead last again in the nation.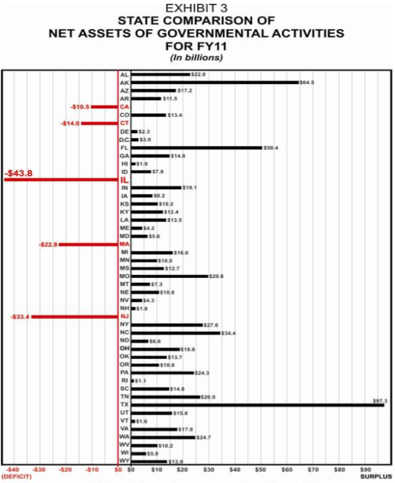 In an effort to stop the state from drowning in pension debt, Quinn passed the largest tax hike in Illinois history: a 67% increase on all income earners and 46% increase on all businesses – all of which went to our pension system and still wasn't enough to cover last year's deficit, let alone any of Illinois' other outstanding bills.
Quinn then proposed modest reforms to fix the system and extend its longevity, including: increasing public employee contributions by 3%, reducing the automatic annual cost-of-living increase in retirement, and increasing the retirement age to 67 for current employees, among others. According to Quinn, we could have our pension system 100% funded within the next generation by passing these reforms.
Not so fast, says the Illinois AFL-CIO boss Michael Carrigan, who on behalf of a coalition of unions, called the plan an endorsement of "unfair and unconstitutional cuts."
Illinois unions have persistently protested and heckled Quinn all summer long for trying to fix our pension system, even chasing him all the way to Charlotte for the Democratic National Convention.
After trying everything else, Quinn has nowhere left to go but to ask for some sacrifice from the people he has protected most in this state (and his voter base): the public sector unions. But they're still fighting him every step of the way and won't give up anything.
Meanwhile, north of the Illinois border, we all remember what Republican Governor of Wisconsin Scott Walker went through in passing his "Repair the Budget" bill, which reformed collective bargaining rights so that public sector employees contribute more for their own benefits (specifically, 5.8% toward their pensions and 12% toward their health care coverage – about HALF the private sector national average). The results have seen Wisconsin turn a $3.6 billion budget deficit into a $154 million surplus, balancing its budget for the first time in 30 years.
What's more interesting, though, is what has happened to union membership in Wisconsin since passing CBA reform. Wisconsin membership in the American Federation of State, County and Municipal Employees (AFSCME) — the state's second-largest public sector union after the National Education Association (NEA), which represents teachers — fell to 28,745 in February 2012 from 62,818 in March 2011.
Let me repeat that: After Walker passed CBA reform, the state public sector employee union contracted by more than 50%! The Wisconsin affiliate of the NEA has declined to comment on any membership change.
A provision of the Walker law that eliminated automatic dues collection is what hurt union membership. When a public sector contract expires, the state now stops automatically collecting dues from the affected workers' paychecks unless they say they want those dues taken out. In many cases, the union dropped members from its rolls after it failed to get them to affirm they want dues collected.
So let me get this straight; when rank-and-file public sector union members are finally presented with an opportunity (or more like given the right) to break away from their union bosses and keep more of their own paycheck, they are evidently doing so in droves. Today, just one in eight American workers is a union member compared with more than one in three in the mid-1950s.
If that's the case, then as I stated in the beginning, we must now ask ourselves two questions: Have unions outlasted their necessity? And have union bosses become greedy? I believe the events we are witnessing in Illinois and Wisconsin answer those questions loud and clear.