Editor's Note – SUA posted Hassan Nasrallah's video message of support for Assad, and since he takes his orders from Tehran, its no surprise Hezbollah is being used by the regime to quell the rebels. In fact, SUA reported that they were already in Syria for quite some time now. The fact that the rebels now see this and are reporting it confirms earlier reports.
Syria rebels: Assad regime recruiting Iranian, Hezbollah mercenaries
Free Syrian Army spokesman says Syrian President Bashar Assad losing control of his forces; dozens of Syrian army deserters find refuge in Jordan.
By Jack Khoury and The Associated Press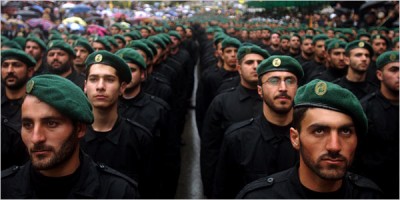 The Syrian regime is beginning to lose control over its security forces and is thus forced to hire mercenaries from Iran, Iraq and Lebanon, the Free Syrian Army spokesman told the Saudi newspaper Asharq Alawsat Newspaper on Sunday.
The spokesman, Ammar al-Wawi, said that in recent months many army and police officers defected, a fact that "requires the regime to make internal changes in the military ranks."
Al-Wawi added that the mercenaries include members of Iraqi Shiite militias, the Iranian Revolutionary Guard and Hezbollah, and are being deployed in military operations against rebel forces.
Meanwhile, Jordan's foreign minister said 100 Syrian military and police deserters have taken refuge in the kingdom throughout the eight-month uprising in their country.
Nasser Judeh's Sunday remarks were the first official public confirmation that Jordan hosts Syrian defectors.
In September, officials said privately that Jordan had received 60 Syrian army and police deserters, who ranged in rank from corporal to colonel.
Judeh told The Associated Press that the Syrian soldiers and policemen, whom he claimed were conscripts rather than officers, had arrived in batches over the last eight months.
Many Syrians fleeing Assad's crackdown have also sought refuge in neighboring Turkey.
Arab League foreign ministers were to meet in Cairo later on Sunday to decide whether to rubber-stamp a set of sanctions on Syria drafted by their economy ministers after Syria ignored a deadline designed to end its violent crackdown on protesters.