Editor's Note – SUA contacts in Egypt tell us that one of the three American students arrested has been turned over to authorities that are in the process of deporting the student. The two other students' situations remain fluid and if the military government decides they were inciting, their fates may be quite uncomfortable.
A student from Drexel University in Philadelphia is one of three Americans arrested in Egypt for throwing firebombs at police.
An Egyptian Interior Ministry official says the three were arrested on the roof of an American University of Cairo building, where they were throwing Molotov cocktails at security forces fighting protesters in Tahrir Square.
The wave of protests that began Saturday has left 29 dead and thrown Egypt's politics into chaos.
Tens of thousands of people filled the square Tuesday to intensify pressure on Egypt's military leaders to hand over power to a civilian government.
Their families and universities say the American students who were arrested are 21-year-old Luke Gates, an Indiana University student from Bloomington, Ind.; Gregory Porter from Drexel University; and Derrik Sweeney, a Georgetown University student from Jefferson City, Mo.
Porter is from Glenside, Pa.
Three American students arrested in Cairo as unrest enters 4th day
By Leila Fadel and Ernesto Londoño
CAIRO — Three Americans studying at the American University in Cairo have been arrested and accused of participating in the violent demonstrations that are posing the greatest threat to Egypt's military leaders since the ouster of President Hosni Mubarak last February.
As angry crowds gathered in the capital's Tahrir Square for a fourth consecutive day, Egypt's military leaders held a meeting with political leaders in hopes of diffusing the deepening political crisis.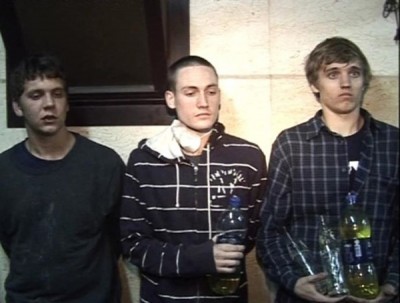 But major figures refused to attend, including Mohamed ElBaradei, the Nobel Peace Prize winner who has emerged as a possibility to head a national unity government, and Shady Ghazali Harb, a leading member of the Revolutionary Youth Coalition, and a close ally of ElBaradei's.
"I refused to go because of the violence still going on in Tahrir Square," Harb said. "We can not negotiate with anyone still doing such violence. The legitimacy comes from the square, not the military council."
One brigadier general, speaking on condition of anonymity, said the ruling generals are weighing whether to hand power to some kind of civilian authority. The head of the Supreme Council of the Armed Forces, Mohammed Hussein Tantawi, was expected to address the nation soon, in a rare appearance, but there was no indication that any decision on a change in government was imminent.
At the American University in Cairo, a spokeswoman identified the three detained Americans as Derrik Sweeney, 19, a student at Georgetown University who is from Jefferson City, Mo.; Luke Gates, 21, an exchange student from Bloomington, Indiana who attends Indiana University; and Gregory Porter, 19, of Glenside, Pa., and Drexel University.
The young men are accused of throwing flaming canisters at Egyptian security forces, part of what Egypt's military generals are calling foreign efforts to stir the anti-government protests. All three are on exchange programs at the American University in Cairo.
"The three boys were throwing molotov cocktails and had no passports on them when they were picked up," Adel Saeed, a spokesman for Egypt's general prosecutor's office, told CNN.
American University in Cairo President Lisa Anderson said the university is working closely with the U.S. Embassy to free them. They were shown on state-controlled television late Monday night, lined up against a wall, their identification cards and credit cards spread out on a table.
As the crowds grew once more in Tahrir on Tuesday, demonstrators held aloft the body of a dead protester in a wooden coffin, a symbol of the growing anger toward Egypt's military chiefs. Protests also swelled in upper Egypt and the coastal city of Alexandria.
At least 33 people have been killed, and nearly 2,000 wounded, since the violence began last week. Dramatic video of a girl being dragged by her hair through the street by police, and of men being beaten to apparent death by police, are circulating on the Internet, drawing enormous public attention.
Demands are growing for a presidential council made up of civilians to replace the Supreme Council immediately, or for the generals to hand power to the supreme court until presidential elections take place.
"We're on a revolutionary trajectory. People aren't going to stop. People are going to keep escalating until something very drastic happens. There is an enormous amount of anger," said Hani Shukrallah, the editor in chief of Ahram online. "I don't think people will accept anything less than really serious evidence that the Supreme Council of the Armed Forces is stepping back."
Protesters cordoned off part of the square to treat patients returning from a side street where security forces had fired off tear gas. Dozens who had fainted were laid on dusty blankets. Volunteers passes out surgical masks, and vendors sold gas masks for $10 Egyptian pounds, or less than $2.
Mohammed Gamel, 19, was among those carried back from the stretch of Mohammed Mahmoud Street, where a sea of protesters was holding back riot police.
"When we tried to move forward they fired a cloud of tear gas at us," Gamel said. "My friend was standing right there with me last night, and he died."
Crowds were building even without the officials participation of the nation's largest and best organized political force, the Muslim Brotherhood. The Islamist group announced Monday that it would not join any more sit-ins or marches, for fear of disrupting the parliamentary elections scheduled for Monday, in which it is expected to make big gains.
The decision to opt out of demonstrations was not universally followed, however; many young members of the Brotherhood participated despite the ban. But the decision to stay away prompted extreme anger from many activists in the square, who said the Brotherhood was trying to play both sides.
Members of Egypt's cabinet told the ruling generals on Monday that they wanted to resign en masse, apparently to protest of the harsh crackdown on unarmed protesters. By Tuesday, however, Egypt's military rulers still hadn't accepted the cabinet's resignation. Prime Minister Essam Sharaf continued business as usual as his government waited for a response.
"It's up to the Supreme Council of the Armed Forces to mandate a new cabinet and a new prime minister or to accept the continuation of this government," said Mohammed Hegazy, the cabinet spokesman. "There were calls from the square that the government should resign, and we have to serve the people."
But activists in the square called the resignation offer insignificant. "We don't care if the government resigned; we want the head of the snake, not the body," said Abdalla Waleed, 20, a blogger and one of the demonstrators.
Victoria Nuland, a spokeswoman for the State Department, said that the United States was "deeply concerned" about the bloodshed and urged all parties to focus "on holding free, fair and peaceful elections as scheduled" on Monday.
The country's military generals were hailed as heroes when they sided with demonstrators and pushed Mubarak out of power in what amounted to a soft coup. Over the past nine months, however, the generals have tried thousands of civilians in military courts and expanded the use of a despised emergency law that gives the government sweeping powers to detain people, worrying some Egyptians that they had traded one autocratic regime for another.
Political leaders across the ideological spectrum appeared to have coalesced around a list of demands. Key among them is that military leaders cede power to elected officials before the summer, rather than sticking to the current transition time frame, which could leave them in control for up to two more years.
In an apparent nod to protesters, the military announced a new "treachery" law Monday to stop former members of Mubarak's National Democratic Party from running in the parliamentary elections. But the law, which activists said was too little, too late, would apply only to those convicted of political corruption.
The military council also said that it had ordered an investigation of the causes of the clashes and would take legal action "against anyone who is proven to have been involved in the events."
Special correspondent Ingy Hassieb contributed to this report.