Editor's Note – It is being reported that Egyptian authorities have detained the alleged ringleader of an Egyptian terrorist network.  These are alleged to be members who are suspected of participating in the 9-11 attack on the U.S. consular compound in Benghazi Libya that killed U.S. Ambassador Stephens and three other Americans.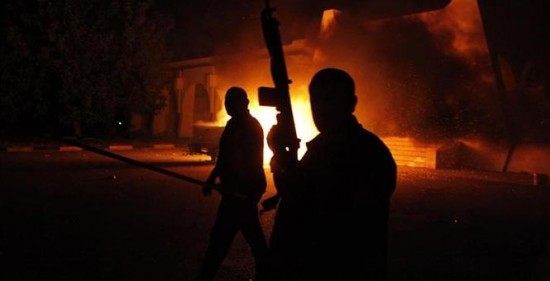 American Intelligence Assets Used To Capture Alleged Ringleader Of Benghazi Attack In Egypt
by Anjali Sareen – Mediaite
Aided by U.S. intelligence, Egyptian authorities have captured the alleged leader of a terrorist network suspected of participating in the attack on the U.S. consulate in Libya that killed four Americans.
According to Fox News, Muhammed Jamal Abu Ahmad was detained this past week and is considered by counterterrorism officials to be "one of the most menacing operatives to emerge in the region in the wake of the Arab Spring."
Further details of his capture have not yet been released.
Authorities believe Ahmad was in the midst of launching a "new wing" of Al Qaeda. He was arrested last year in Egypt, as well, but was released after the end of the reign of President Hosni Mubarak.
Since his release, Ahmad has been attempting to create a new terrorist network with camps in both Libya and Egypt, called the Jamal Network. Financing to his operation came from an Al Qaeda branch in Yemen. U.S. officials have been searching for Ahmad for several months.
U.S. officials believe the help of the Egyptian government shows a "willingness" to pursue Al Qaeda-associated terrorists Seth Jones, an al Qaeda specialist with think tank Rand Corp, calls Ahmad's capture "strategically important" to America, because his terrorist network was growing beyond Egypt and into North Africa. Egyptian officials also arrested five suspects in October believed to be connected to Benghazi, but American government officials say this can't be confirmed.
Watch the report from Fox News below:
%CODE%