Editor's Note – With the closing of the United State's embassy in Yemen this week, and the subsequent report that while leaving the Marines defending the staff and installation had to disarm prior to exiting the country, conflicting reports abound.
What it does show though, with alarming clarity, the Obama administration has yet another stark failure to its credit. But what is worse is the major gap in our ability to confront Al Qaeda, all while the Iranian puppets, the Houthis, gain yet another Middle East capitol comes under the Iranian orbit.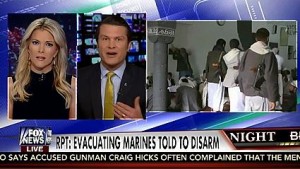 But now the Pentagon is challenging that assessment:
The U.S. military has retained its ability to conduct counterterrorism operations inside Yemen, a Pentagon spokesman told Breitbart News.

"We still retain the [counterterrorism] capability [in Yemen]," asserted Marine Maj. Bradlee Avots, the Department of Defense (DoD) spokesperson, told Breitbart News Wednesday evening.

Breitbart News asked Maj. Avots whether the Pentagon was still able to fight Yemen-based terrorists such as al-Qaeda in the Arabian Peninsula (AQAP) after the takeover of the U.S.-backed government by Iranian-backed Houthi Shiites and the country's ongoing descent into utter chaos.
Of course the State Department also denied the reports but we are not the only ones officially severing embassy ties to Yemen, as Saudi Arabia, Germany, and Italy have closed their facilities as well.
In a blistering [interview] on the Megyn Kelly show tonight, State Department spokesmoron Jen Psaki denied any order came from them for Marines to disarm during the American evacuation out of Yemen, but could not say who did. (Read more here.)
But in the process, al Qaeda is boasting that it freed some of its fighters as the article below outlines. This raises many questions and seems to challenge Washington's assessments.
After a Yemeni army installation was captured by Sunni Al Qaeda, and the Shiite Houthis took our embassy, it is hard to imagine how our counter-terrorism efforts are not severely in jeopardy.
It also clearly shows that the Obama administration will 'say or do anything, or not do things' all in fear that an agreement will not be reached with Iran in the nuclear talks.
Al Qaeda freed 6 inmates in Yemen prison attack, officials say
By Jason Hanna and Hakim Almasmari, CNN
(CNN)Al Qaeda militants freed six of their fighters from a southern Yemeni prison during an attack on the facility Friday, just one day after the group took over a military camp in the same province, security officials said.
These attacks by al Qaeda in the Arabian Peninsula, which has long clashed with Yemen's military, happened in the Arab nation's Shabwa province, more than 100 miles to the east of the capital, which has been in political strife for weeks after minority Houthi rebels took over.
Also Friday, at least three more nations announced they were temporarily closing their embassies in the Yemeni capital of Sanaa because of deteriorating security conditions, including neighboring Saudi Arabia.
Three of the six militants freed in Friday's prison attack in Shabwa had been sentenced to death, provincial security officials said.
Information about casualties, and details about how the attack transpired, weren't immediately available.
A day earlier, AQAP took over a military camp at the Sabwa town of Baihan, about 110 miles east of Sanaa, after two hours of clashes with government troops, three local security officials said.
This gave AQAP control of all of the camp's weaponry, the officials said.
Before the clashes ended, the camp's commander called on tribal fighters to intervene. When those fighters arrived, a ceasefire was called so that the tribal fighters could help evacuate Yemeni troops — including dozens of injured — from the camp, a tribal leader said.
Saudi Arabia, Germany, Italy join others in closing embassies in Yemen
Saudi Arabia, Germany and Italy said Friday they were suspending their embassy operations in Sanaa — joining the United States and other nations that made similar moves earlier in the week.
Saudi Arabia evacuated its staff because of deteriorating security conditions following a recent takeover of the Yemeni capital by Houthi rebels, the Saudi Foreign Ministry and two Yemeni Foreign Ministry officials said.
One of the Yemeni officials said the Saudi evacuations happened Thursday.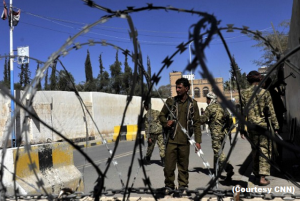 German Embassy officials left Yemen on Friday morning, Germany's Foreign Ministry said on Twitter. Italy's decision follows "recent events in the country and the progressively deteriorating security conditions," a post by Italy's Foreign Ministry reads.
The United States, along with Britain and France, said this week that they moved staffers out of their embassies because of instability in Yemen, after Houthi rebels seized control of key government facilities, dissolved parliament and placed President Abdu Rabu Mansour Hadi under house arrest last month.
The Houthis — Shiite Muslims who have long felt marginalized in the majority Sunni Muslim country — are now the preeminent power in Sanaa. But different groups there have resisted the Houthis' attempted takeover of national government institutions, particularly in the south, where there's a long-running secessionist movement.
AQAP, a Sunni Muslim terror group, vowed to attack Houthi loyalists nationwide last year.
The United States has had a long relationship with Yemen's leaders, working with them to target AQAP militants.
It's not clear what the Houthis' takeover of Sanaa means for U.S. anti-terrorism efforts, but the drone program there still appears to be active. A U,S. drone strike killed senior AQAP cleric Harith bin Ghazi al-Nadhari and three other people in Shabwa province on January 31.