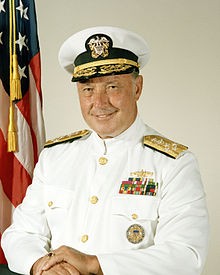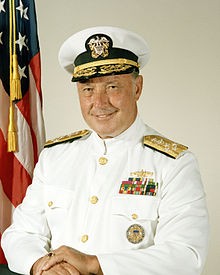 To Fellow Flag Officers
It is with deep regret I inform you of the passing of Admiral James
Aloysius "Ace" Lyons, Jr., U.S. Navy (Retired) on 12 Dec 2018 at age 91.
Admiral Lyons graduated from the U.S. Naval Academy in June 1952 and served
as a Surface Warfare Officer until his retirement as four-star
Commander-in-Chief, U.S. Pacific Fleet on 1 October 1987.  In multiple
leadership assignments in Navy strategy roles in the Pentagon and in command
of Second Fleet and Pacific Fleet, ADM Lyons played critical part in in the
development and implementation of the President Reagan Administration's
Maritime Strategy.  In multiple innovative exercises, such as Ocean Venture
81, ADM Lyons demonstrated to the Soviets that the U.S. Navy could truly
surprise and hurt them in the event of war, forcing the Soviets to have to
contemplate a much larger defense budget at a time when their economy and
internal situation were deteriorating.  A case can be made that  ADM Lyon's
effective execution of the Maritime Strategy was the "straw that broke the
camel's back," contributing to the collapse of the Soviet Union several
years later; others might argue that the effect was even more direct and
decisive and was in keeping with Sun Tzu's dictum that the highest form of
military art is to win without fighting (but a key to  that is to be ready
to win, which ADM Lyon's epitomized.)
After a stint in the Merchant Marine, ADM Lyons enlisted in the U.S. Naval
Reserve on 30 Jun 1947, entering the U.S. Naval Academy in 1948 and
graduating with the Class of 1952, playing football and with a BS in Naval
Science.  His career got off to a bit of a slow start with three months
aboard  attack cargo ship USS LIBRA (AKA-12,) conducting training on the
U.S. east coast assigned to Amphibious Force, Atlantic Fleet.  This was
followed by two years as a patient at Portsmouth and Bethesda Naval
Hospitals, followed by a year at the Bureau of Naval Personnel.  He resumed
sea duty in November 1955 aboard the heavy cruiser USS SALEM (CA-139)
deployed for 20-months as a "permanent" flagship for Commander, SIXTH Fleet
and homeported in Ville Franche-sur-Mer, France.  During this period, SALEM
(last heavy cruiser in the  world completed and the only one still in
existence,) responded to the 1956 Arab-Israeli War/Suez Crisis and two
crises in Jordan.  In January 1958, he reported to the destroyer USS MILLER
(DD-535,) which supported the landings of U.S. Marines in Lebanon during a
Mediterranean deployment, after which she served as a training ship for over
11,000 Naval Reservists (gaining some notoriety when a cadet from a New
Zealand cadet training ship swam across Boston harbor at night and raised a
Russian flag on the MILLER as a joke.  Many were not amused.)  In July 1961
he reported to Commander Cruiser-Destroyer Flotilla FOUR as ASW and Gunnery
Officer/Staff Duty Officer operating along the Atlantic coast and engaged in
significant ASW experimentation.
In July 1963, ADM Lyons attended the U.S. Naval War College, followed by a
little over two years in the Office of the CNO as Surface Warfare Plans
Officer, Strategic Plans Division, Naval Warfare Plans section, where he was
promoted to commander in 1966.  In November 1966, he assumed command of the
destroyer USS CHARLES S. SPERRY (DD 697,) which deployed to the
Mediterranean, Indian Ocean, Arabian Gulf and Western Pacific during this
period.  In August 1968, he reported to the staff of Commander SIXTH Fleet
as Executive Assistant to the Deputy Chief of Staff for Operations and
Plans/Head, Anti-submarine Warfare and Ocean Surveillance Division,
following the move of 6th Fleet from France to Gaeta, Italy.  Commencing in
June 1970, he studied for a year at the National War College, followed by
another two years in the Office of the CNO as Executive Assistant and Senior
Aide to the Deputy CNO for Plans and Policy, during which he was promoted to
captain.
In January 1974, ADM Lyons assumed command of the destroyer leader (later
re-designated cruiser) USS RICHMOND K. TURNER (DLG-20) for a homeport shift
from Newport to Norfolk, followed by a Mediterranean deployment.  In June
1975 he reported as Chief of Staff to Commander, Carrier Group FOUR, which
was engaged in a significant transformation to the modern Battle Group
concept (i.e, where the Flag is responsible for the whole battle group not
just the carrier and air wing.) Some credit him with turning the Carrier
Group from an administrative construct to a true warfighting organization.
In March 1978, he was back in the Office of the CNO yet again for four
months as Deputy Director, Strategic Plans and Policy Division, followed in
June 1978 by a tour in the Office of the Joint Chiefs of Staff as Assistant
Deputy Director, Political Military Affairs where he was designated as a
rear admiral while serving in a billet commensurate with that rank (and
actually promoted rear admiral on 1 June 1979.)
In July 1980, he assumed command of Naval Surface Group Western Pacific
This was followed in July 1981 when he was designated a vice admiral and
assumed command of SECOND Fleet (and NATO Striking Force Atlantic) and
almost immediately participated in major NATO exercise Ocean Venture, a two
month exercise involving over 250 ships and 120,000 crewmen from 14
countries, spanning the South Atlantic to the North Cape of Norway, followed
by two more major exercises, characterized by extensive use of emissions
control, dispersed formations, deception, bold use of electronic warfare,
all calculated to get in the Soviet's face, frequently by surprise.    In
July 1983, he returned  to the Office of the CNO as Deputy CNO, Plans,
Policy and Operations (OP-06,) which prior to the Goldwater-Nichols Act had
a much more operational role than today, which in addition to operations
affecting the Soviet Union also included significant anti-terrorist
activity, including the Achille Lauro hijacking incident.  He was then
designated an admiral (four-star) in September 1985 as Commander-in-Chief,
U.S. Pacific Fleet.  He immediately implemented a bold exercise regime
similar to that in the North Atlantic, using THIRD Fleet as a primary
warfighting force in the far northern Pacific in proximity to the Soviet
Union.  Yet, his tenure was also marked by a successful visit of U.S. Navy
warships to the People's Republic, the first in 37 years.  Nevertheless, his
tenure was also contentious, as the "bugs" in Goldwater-Nichols between
Joint Theater Combatant Commanders and Fleet Commanders were still being
worked out the hard way.  Relations were rocky with the new U.S. Central
Command (in which ADM Lyons advocated much stronger action against Iran
during the "Tanker War,) and to a somewhat lesser extent, U.S. Pacific
Command, who was sometime caught as much by surprise by Lyon's actions as
the Russians.  ADM Lyon's deserved reputation for outspokenness was not
always well-received, and he came under pressure from Washington to retire
sooner than intended.  Former Secretary of the Navy John Lehmann would later
characterize this action as "the revenge of the nerds," believing that the
services of a true warfighter had been lost prematurely.  ADM Lyons retired
in October 1987.
Admiral Lyons' awards included two Distinguished Service Medals, the
Defense Superior Service Medal, two Meritorious Service, two Navy
Commendation and a Navy Achievement Medal.  Other medals and ribbons
included the Navy Expeditionary Medal (Cuba), Humanitarian Service and Armed
Forces Expeditionary Medal (Lebanon).  Foreign awards included the French
Legion D'Honnneur and the Republic of Korea Order of National Security
Merit.
Although ADM Lyons had a reputation as a driven task-master with
Patton-esque qualities, he was also mentor to a long list of officers (such
as Hank Mauz, Phil Dur and Hank Mustin, according to SECNAV Lehmann) who
went on to flag rank or major command tours.  ADM Lyons could definitely be
controversial, but his impact on the Navy, and on the outcome of the Cold
War, was profound, for which our Navy and nation should be grateful.
After retirement, ADM Lyons served as president and chief executive
officer of LION Associates, LLC., a global consulting enterprise.  He also
served on the board of directors for several companies, as well as on the
Advisory Board to the Director of the Defense Intelligence Agency, and as
consultant to Lawrence Livermore Laboratory.  He also authored numerous
articles and columns for the Naval War College Review and Naval Institute
Proceedings, and other national and international journals and newspapers.
In his later years, he showed he remained unafraid to make controversial
statements on controversial subjects, and whether one agreed with any of
them or not, they were motivated by a sincere desire to assure the safety of
this nation.  (One cause he advocated, with which I agree, was to restore
Husband Kimmel's four star rank.)  Regardless, his absence from the scene
will be noticed.
Services and burial at the Naval Academy Cemetery.
Rest in Peace Admiral Lyons,
Very respectfully,
Sam
On a personal note, I had one close encounter with then-VADM Lyons, in 1985
when he was OP-06 and I was an Undersea Warfare Watch Officer in CNO
Intelligence Plot.  One weekend the Soviets took an action with potential
lethal consequences for a U.S. Navy asset, necessitating that I call a long
list of senior Navy officials.  VADM Lyons got there first, still in shorts,
a tank top (that was too small) and flip-flops, indicating he hadn't dallied
a moment in responding to my call.  Although he had a reputation amongst us
JO's as being on the bombastic side, what I saw that day was a cool, calm,
utterly professional flag officer, who instantly grasped the situation and
potentially grave  implications of what the Soviets had done, and
immediately took decisive measures to unsure appropriate actions were taking
place in the Fleet and Numbered Fleet.  He was an inspirational example of
leadership in crisis that I never forgot.  In the end, it may have turned
out to be a really bad day for a beluga whale, but fortunately not for the
U.S. Navy.
Samuel J. Cox
RADM, USN (retired)
Director of Naval History
Curator for the Navy
Director, Naval History and Heritage Command
A must watch to the end: