Editor's Note – Hillary, Hillary, Hillary! At what point does America as a whole declare the Clinton era over – once and for all? Democrats, is this the best your party can offer?
Everything associated with the Clintons reeks, and yet, so many in America still support Hillary Clinton's candidacy for President. She cannot be trusted on anything, and now we have rules for the press on what we can say or print about her?
The same person who erased her entire email server, was fired from the Watergate investigation for lying, and the myriad other scandals is just plain "unethical" and is the epitome of the now infamous list of the 13-words her supporters say we cannot use: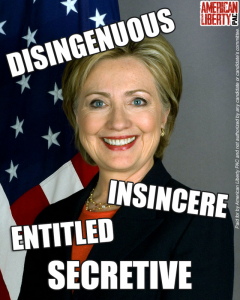 Amy Chozick, political reporter for the NY Times, received an email warning from a group called HRC Super Volunteers, "You are on notice that we will be watching, reading, listening and protesting coded sexism." To that end they gave Ms. Chozick a list of 13 word she cannot use to describe the former Secretary of State.

According to HRC Super Volunteers the 13 sexist words are "polarizing," "calculating," "disingenuous," "insincere," "ambitious," "inevitable," "entitled," "over-confident," "secretive," "will do anything to win," "represents the past," "out of touch," and "tone deaf."
We would like to add a few more words these "Super Volunteers" missed like corrupt, conniving, devious, narcissistic, untrustworthy, shady, nefarious, unscrupulous… the list could be pages long; great assets for the Oval Office, yes?
Everyone associated with her also reeks of corruption, whether it is Sidney Blumenthal , and his 'leaked' emails on her spy network, her husband and 'Orgy Island,' their foundation collecting foreign money, Sandy Berger with his smarmy, sticky fingers, and now her one-time confidential aid and shadow, Huma Abedin is finally getting the scrutiny she deserves.
It appears that Abedin, the woman closely associated with the Muslim Brotherhood was also a "special" employee, double-dipping as Senator Grassley is alleging.
Hillary Clinton's chief-of-staff, Huma Abedin, worked on the editorial board of a Saudi-financed Islamic think tank alongside a Muslim extremist accused of financing al-Qaida fronts.

The extremist, Abdullah Omar Naseef, is deeply connected to the Abedin family. Naseef is secretary-general of the Muslim World League, an Islamic charity known to have spawned terrorist groups, including one declared by the U.S. government to be an official al-Qaida front.
Now that Harry Reid is 'over,' is there any person with a "D" after their name more loathsome and corrupt? Where is that Department of Justice? "Even Nixon didn't destroy the tapes" – Reince Priebus.
Senate GOP asking new questions about emails for Clinton and Abedin, who had special employment status
From Fox News
Senate Republicans are renewing efforts to learn why Huma Abedin, a top assistant to then-Secretary of State Hillary Clinton, was allowed to keep working at the agency under a special, part-time status while also being employed at a politically-connected consulting firm.
The new requests are being made by Iowa GOP Sen. Chuck Grassley, chairman of the Senate Judiciary Committee, following revelations that both women used a private Internet server and email accounts for State Department correspondence.
Grassley says the earlier requests to the department have been largely ignored, so the new ones have gone to the department's inspector general and to Secretary of State John Kerry, seeking their involvement.
Grassley's probe started in 2013, when he requested all communications between Abedin, after she switched from a full-time deputy chief of staff for Clinton to a part-timer, then started working for Teneo, a consulting firm that says it "brings together the disciplines of government and public affairs."
A July 2013 letter from the department to Grassley, provide by the senator's office, states Abedin worked full-time from January 2009 to June 2012. It also states Abedin did not list outside employment upon ending her full-time employment and that the department retained her as an adviser-expert at the hourly rate of a SGA GS-15/10.
The most recent available federal documents show the rate as $74.51 with a maximum pay of $155,500 annually.
"A number of conflict-of-interest concerns arise when a government employee is simultaneously being paid by a private company, especially when that company (is) Teneo," Grassley said in the March 19 letter to Kerry that also raised concerns about Abedin and other department employees appearing to have been "improperly categorized" as special government employees, or SGEs.
Grassley says he specifically wants to know "what steps the department took to ensure that … Abedin's outside employment with a political-intelligence and corporate-advisory firm did not conflict with her simultaneous employment at the State Department."
The letter to department Inspector General Steve Linick also questions whether the department's "excessive" use of SGE designations undermines ethics standards and if Clinton and Abedin's private emails have the potential to impede the department from fulfilling Freedom of Information Act, or FOIA, requests, over which the upper chamber's Judiciary Committee has legislative jurisdiction.
Grassley says the department's answers have so far been "largely unresponsive" and points to a November 2014 response that in part states "an individual may receive an SGE designation if he or she is joining the department from the private sector or is coming from another government position."
However, Abedin came neither from the private sector nor another government position, Grassley argues.
"She converted from a full-time employee … with seemingly little difference in her job description or responsibilities," he wrote.
Grassley also argues that the purpose of the SGE program is to help the government get temporary services from people with special knowledge and skills whose principal employment is outside the government.
However, Abedin essentially kept the same job and was subsequently hired by Teneo and the Clinton Global Initiative.
"It is unclear what special knowledge or skills Ms. Abedin possessed that the government could not have easily obtained otherwise from regular government employees," Grassley wrote.
The State Department says Abedin was an SGE until February 2013, essentially doing the same job that she did as a full-time employee, advising on Clinton's schedule and travel. It also states she reviewed department ethics guidelines but was allows to work part-time without a new security clearance.
Grassley also says the department's current use of the SGE designation "blurs the line between public and private sector employees" and that department employees getting full-time salaries for what appears to be part-time work is "especially troubling."
"The taxpayer deserves to know," Grassley wrote.