Editor's Note – The Republicans attending the State of the Union address tonight are working to show solidarity that is in full opposition to Barack Obama's doctrine(s), which to date, and on all topics, has failed miserably, despite his team's spin.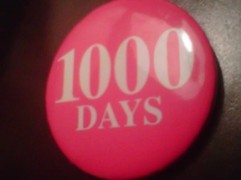 In case the television cameras pan the gallery, you may wonder why some members are wearing a red button that reads "1,000 days" and what it means. It has been over 1,000 days since the Harry Reid Democrat Senate has presented a budget, and the red buttons are part of the attire tonight to demonstrate to all viewers just how failed in duty the Senate actually is.
In case you are wondering who will be in attendance as special guests, SUA is delighted to provide the list for you and the campaign reasons they are in attendance.
Debbie Bosanek is the headliner, but 20 other Americans — ranging from the military commander who helped kill Osama bin Laden to Apple founder Steve Jobs's wife — will sit in first lady Michelle Obama's box during the State of the Union address Tuesday night.

Adm. William McRaven, Laurene Powell Jobs, retired astronaut Mark Kelly, San Antonio Mayor Julián Castro and Instagram co-founder Mike Krieger are among the guests of President Obama and his wife.

Asking ordinary, and extraordinary, Americans to attend the State of the Union speech has been a tradition for three decades for presidents, who use them to illustrate policy proposals and win political points for their accomplishments. Read the rest here.
The 2012 Obama slogan that this administration hopes to formally launch at the State Of The Union address is "Engage with Us".
The most disgusting expectation of this State of the Union speech will not be to accurately state the condition of America, but rather, it will be a launch his 2012 campaign. We can only hope that there will be many Joe Wilson moments tonight.
As Republicans Bash 'Empty Rhetoric,' WH Pushes Online Version of Obama's Speech: 'Engage With Us'
By Susan Jones
(CNSNews.com) – The Obama White House is urging Americans to watch President Obama's State of the Union speech Tuesday night either on television — or better yet, on the White House Web site or on a mobile phone — and then "engage with us and lend your voice to this debate."
The online version of Obama's speech will be "enhanced" with charts and graphs illustrating the president's points.
In a video message on the White House Web site, senior adviser David Plouffe says President Obama, in his 9 p.m. speech tonight, will "lay out the progress we've made and the work we still have to do for how we build an economy that works for the middle class and rewards responsibility and hard work to make sure that everybody does their fair share, everybody gets a fair shake, everybody engages in fair play."
When the president is done speaking, "we want to hear from you directly," Plouffe said. Immediately after the speech, senior administration officials will hold a panel discussion — streamed live from the White House — giving people an opportunity to ask questions via Twitter, Facebook or Google-Plus.
"So you're just not watching the speech but then you're engaged afterwards, and able to really talk with us, help inform us better, and answer any questions you might have about what the president proposed in the State of the Union," Plouffe said.
Republicans on the House Education and the Workforce Committee, in advance of Obama's speech, have one main question: "Where are the jobs?"
"The president has proven he can deliver a great speech, but he continues to disappoint on the issue that matters most: jobs," the committee said in a news release on Monday.
Republicans note that in 2009 — when a crashing economy shed roughly 4 million jobs — Democrats in Washington ignored the job losses and spent months focusing instead on a "costly government takeover of health care" that placed more pressure on job creators.
The committee also criticized Obama's National Labor Relations Board for "promoting a culture of union favoritism at the expense of workers and employers."
It took issue with burdensome federal regulations, noting that on Monday alone, Obama's Labor Department issued 61 regulatory proposals.
The committee says the Obama administration has no new ideas to improve job training assistance or to untangle the "complicated maze of bureaucracy," which includes dozens of separate job training programs spread across nine federal agencies.
And finally, the committee accused Obama of exacerbating the country's fiscal crisis with "spending, spending, and more spending," at a time when the national debt now stands at a staggering $15.2 trillion, this year's federal deficit is on track to hit nearly $1 trillion, and unemployment sits above 8 percent for the 35th straight month.
The official Republican response to the State of the Union address will be delivered by Indiana Gov. Mitch Daniels, who at one time mulled a presidential run. The unofficial tea party response will come from former Republican presidential hopeful Herman Cain.