"U.S. must keep up historic military sites"
By Paul Vallely, MG U.S. Army (ret.)
December 28, 2017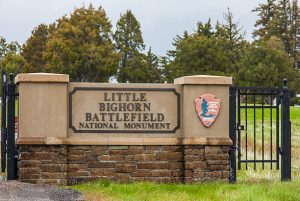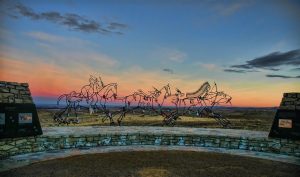 The big national parks in Montana are an obvious boon to our state's economy, bringing in several million visitors each year. It's important to realize that the National Park Service is responsible for maintaining much more than the big draws like Glacier and Yellowstone — the agency also manages over 150 sites of military significance around the country, including some here in Montana. Our military memorials in Montana need maintenance.
Military sites account for one-third of NPS units, including national battlefields, military cemeteries, battlegrounds, and fortifications where the agency preserves and interprets our history. And like many of the units in the National Park System, most of these sites of military significance are deteriorating due to a lack of maintenance funding.
In Montana, the Fort Union Trading Post National Historic Site, Little Bighorn Battlefield National Monument, and Big Hole National Battlefield are all maintained by the NPS. Unfortunately, each of these sites has amassed a significant amount of deferred maintenance as federal funding for needed repairs has been unreliable.
The NPS uses the term deferred maintenance to categorize any needed repairs that are delayed, sometimes for years, because there is no money to pay for them. It's become a growing problem for NPS as visitation to national parks has been soaring during the past few years and the facilities used to accommodate them can be 50 years or older. The growing strains on national parks are beginning to show, and eventually could have an impact on their desirability as vacation destinations due to accessibility and safety concerns.
At Little Bighorn Battlefield alone, NPS has estimated the amount of deferred maintenance at nearly $10 million. Some of the big ticket items are what you would expect NPS to need in interpreting a large battlefield site: repairs to drinking and waste water systems at the visitor center, access roads to monuments and trails, and parking lots.
In addition, though, difficult-to-replace aspects of the site itself are in disrepair due to lack of maintenance. The battlefield landscape, trails through the site, interpretative media, and monuments commemorating those who fought there are all on the NPS deferred maintenance inventory. The NPS does the best it can to prioritize what can be repaired on any given year, but does not have the resources to address all it should.
This is a growing problem that needs to be addressed. The deferred maintenance backlog for NPS in 2016 was estimated at $11.3 billion. For national parks in Montana, that figure is over $250 million.
Allowing that maintenance to go undone year after year has obvious consequences, and eventually could lead to a downturn in visitations. But beyond the important economic boost NPS provides, these sites have important historical significance for Montanans that is well worth preserving.
And with one of the largest veteran populations in the country, Montana values its military history. So as we remember our veterans, let's all take a moment to encourage our congressional delegation to seek a long-term solution to the deferred maintenance funding shortfall that has plagued NPS for too long. We need them to provide dedicated annual federal funding for national park repairs.
These parks, battlefields, and historic sites are treasures to all Montanans, and vital to preserving our heritage. Let's make sure they're taken care of.