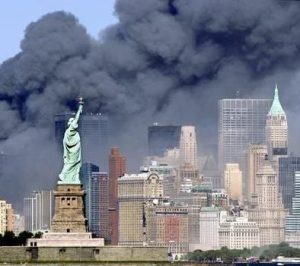 Editors Note: There must be a Clear and Present Danger in more ways than one. Fentanyl was reportedly used in one in four overdose deaths in the U.S. in 2018, killing just over 18,000 people in one year. And then there are those other Clear and Present Dangers from RED China that are clear but not to the DAZIs, the Democratic Socialists of America, and the main stream media fore a reason.
Trump orders U.S. companies to "start looking for alternatives" to China
President Donald Trump is demanding that U.S. businesses "immediately start looking for an alternative to China," including bringing their manufacturing back to the U.S. The president issued the directive in a series of tweets on Friday morning after China hiked tariffs on $75 billion of U.S. products.
Mr. Trump's tweets heighten trade tensions between the world's two biggest economies, with China's latest countermeasures coming in retaliation for the U.S. planning to impose a 10% tariff on roughly $300 billion in Chinese imports starting next month and in December.
"Our great American companies are hereby ordered to immediately start looking for an alternative to China, including bringing your companies HOME and making your products in the USA," Mr. Trump tweeted. "I will be responding to China's Tariffs this afternoon."
Mr. Trump did not say what steps his administration might take to deter companies from operating in China, and it is unclear what legal authority he has to do so. In theory, however, he could impose import and export restrictions that make commerce more difficult.
Mr. Trump added he is "ordering all carriers, including Fed Ex, Amazon, UPS and the Post Office, to SEARCH FOR & REFUSE,….all deliveries of Fentanyl from China (or anywhere else!). Fentanyl kills 100,000 Americans a year. President Xi said this would stop – it didn't."
Stocks dive as trade feud worsen
Investors, jittery over the trade war's impact on the global economy, sent U.S. markets sharply lower after Mr. Trump's tweets. The Dow dropped more than 500 points, or 1.9%, to 25,742, while the broader S&P 500 and tech-heavy Nasdaq each fell more than 2%.
With Mr. Trump threatening a further response to China's trade measures on Friday, investors are worried that the U.S. could decide to impose even steeper tariffs.
China's latest tariffs on U.S. imports represent "another tit-for-tat move and could increase the risk that President Trump will decide to raise the recent tariffs from 10% up to 25%," said Brian Rose, senior Americas economist at UBS Global Wealth Management, in a research note. "In our view, 25% tariffs would cause considerable economic damage and greatly increase the probability of a US recession in 2020."
Chamber of Commerce fears escalation
The U.S. Chamber of Commerce, the business organization, said it is urging "constructive engagement" between the two countries.
"While we share the President's frustration, we believe that continued, constructive engagement is the right way forward," Myron Brilliant, head of international affairs, said in a statement. "Time is of the essence. We do not want to see a further deterioration of U.S.-China relations."
The Trump administration's use of tariffs on Chinese imports, which are paid by U.S. businesses, importers and American imports, are already causing some companies to shift manufacturing away from China and into other locations, such as countries in Southeast Asia.
The retail industry pushed back against Mr. Trump's tweet, calling it "unrealistic."
"For years, retailers have been diversifying their supply chains, but finding alternative sources is a costly and lengthy process that can take years," said National Retail Federation senior vice president for government relations David French in a statement. "It is unrealistic for American retailers to move out of the world's second largest economy, as 95 percent of the world's consumers live outside our borders."
Jimmy Carter's 1977 law gives Trump sweeping powers to block China trade
"For all of the Fake News Reporters that don't have a clue as to what the law is relative to Presidential powers, China, etc., try looking at the Emergency Economic Powers Act of 1977," Trump tweeted. "Case closed!"
Legal Authority
1977 International Emergency Economic Powers Act (IEEPA)
Any word from the Democratic Socialists of America … (you know…the DAZIs…)
US Takes Aim at Deadly Chinese Fentanyl Networks
WASHINGTON – The US Treasury took action Wednesday to crack down on Chinese traffickers of deadly fentanyl, sanctioning producer-exporters and warning banks on financial schemes used to distribute the synthetic opioid behind thousands of US overdose deaths.
The Treasury identified Zheng Fujing, 36, and a company he controls, Qinsheng Pharmaceutical Technology, and a partner, Zheng Guanghua, as a major, Shanghai-based production fentanyl production and trafficking organization.
The Zheng drug trafficking organization, the Treasury said, produced and shipped hundreds of controlled substances, including fentanyl analogues such as carfentanil, which is 100 times more potent than fentanyl.
"Zheng created and maintained numerous websites to advertise and sell illegal drugs in more than 35 languages," it said.
Moreover, it said, Zheng was producing counterfeit cancer pills that replace the active cancer-fighting ingredient with "dangerous synthetic drugs."
Yan, meanwhile, produces and trafficks in synthetic opioids, cannabinoids, and cathinones, and amphetamine-like drug, the Treasury charged.
"Yan has tried to evade prosecution by modifying the chemical structure of his synthetic analogues based on his monitoring of legislation and law enforcement activities in the United States and China," the Treasury said.
All three men have already been indicted in separate trafficking cases in the United States.
The Treasury's designation of the three as "significant foreign narcotics traffickers" under the US Kingpin Act allows the Treasury to use more sanctions and controls to attack their networks.
The Treasury said it had also issued an advisory to banks and other financial institutions describing how synthetic opioid producers and traffickers operate in financial networks, with the aim of closing off their ability to produce and sell their drugs.
"We are making the financial sector aware of tactics and typologies behind illicit schemes to launder the proceeds of these fatal drug sales, including transactions using digital currency and foreign bank accounts," said Kenneth Blanco, the head of the Treasury's Financial Crimes Enforcement Network.
The Treasury said both the Zheng and Yan groups used digital currencies like bitcoin for production operations and sales.
I guess the media experts can't say what it really is…WMD…
Men caught with enough fentanyl to kill 26 million people
"Those Who Resist Will Perish"
GO RED CHINA! GO RED CHINA!…GO DAZIs! GO DAZIs!…