SUA Editors – Emotions versus fact and the 'rule-of-law'. The verdict came in and there is likely not a soul in North America, or the Western World for that matter, that does not already know of the outcome. "Not Guilty" was the verdict the all woman, six person jury returned to the court.
The case consumed the country's attention for more than a year, sparking heated racial debate. While some criticized Zimmerman for racially profiling 17-year-old Martin, others said the teen was, in fact, the aggressor. Although counsel was advised to leave race out of the discussion during trial, during the post-trial press conference, Zimmerman's defense attorney, Mark O'Mara, remarked that if his client were black, "he never would've been charged with a crime."(Huffington Post)
The trial is over, "Mr. Zimmerman has no further business before the court." But is this the end? …Hardly!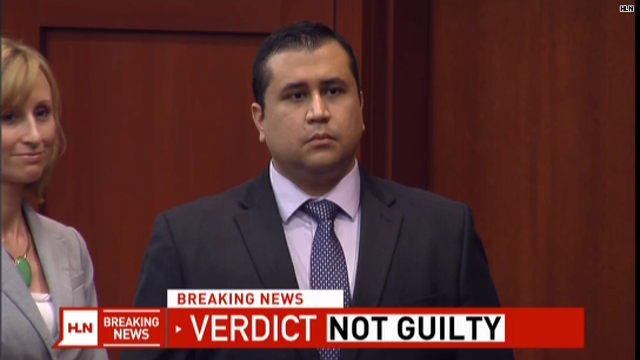 Soon after the verdict was read and the jury was polled, Zimmerman was a free man and the press conferences and statements followed quickly. Vitriol abounded and continues with violence breaking out in some locations like Oakland, California. Then there are the Twitter messages of mass violence, local demonstrations, slurs by an NFL player, and even Senator Harry Reid said "this is not over."
The problem is, people saw things so diametrically opposed that the verdict is sure to be of no consolation for one side, and the other cannot rest much easier due to threats, the possibility of a civil suit, and now many calling for the Department of Justice to join in…but they already had, right after the news broke of the incident and race quickly became the focal point. The DoJ is warned though of many obstacles and fallout should it weigh in again as it is reported to be doing now.
Attorney General Eric Holder faces a crucial decision on whether to press federal civil rights charges against George Zimmerman, after the neighborhood watchman was acquitted Saturday in the shooting death of unarmed black teenager Trayvon Martin.

The NAACP and other leading civil rights groups are pressing for Holder to open a federal case against Zimmerman, after he was found not guilty on second-degree murder and manslaughter charges by a Florida jury. (Read more here at The Hill.)
But, Anger Flows – Carol D. Leonnig and Jenna Johnson write at the Washington Post:
From church pews to the broadcast airwaves, to tweets and hastily organized protests, Americans reacted strongly Sunday to the news that George Zimmerman had been acquitted of all charges in the killing of teenager Trayvon Martin.

The nation's foremost civil rights organization called on the Department of Justice to file civil rights charges against Zimmerman, who had followed the unarmed black teenager as he walked through his central Florida neighborhood, and then claimed he shot Martin in self-defense. The NAACP began circulating a petition late Saturday asking U.S. Attorney General Eric Holder to take action in the case, as it held its annual conference in Orlando.

"It is time for the Department of Justice to act," the petition says. "The most fundamental of civil rights — the right to life — was violated the night George Zimmerman stalked and then took the life of Trayvon Martin." (Read more at the Washington Post.)
Al Sharpton spoke out immediately as well, caution Mr. Sharpton, remember the Tawana Brawley affair? – from the Weekly Standard:
"Well, I think that this is an atrocity," said Sharpton. "I think that it is probably one of the worst situations that I've seen. What this jury has done is establish a precedent that when you are young and fit a certain profile, you can be committing no crime, just bringing some Skittles and iced tea home to your brother, and be killed and someone can claim self-defense having been exposed with all kinds of lies, all kinds of inconsistencies. … Even at trial when he is exposed over and over again as a liar, he is acquitted. This is a sad day in the country. I think that we clearly must move on to the next step in terms of the federal government and in terms of the civil courts. Clearly, we want people to be disciplined, strategic. But this is a slap in the face to those that believe in justice in this country."
We all know that race was the focus, and no matter the facts and verdict, emotion and prejudice would consume the hearts and minds of many, but there were other matters of importance below the surface. Like the law, legal procedure.
The two other matters of importance address our national discussion on gun control and 'standing your ground', and the 'rule-of-law'; having a fair trial amidst a sea of media and political spin over race. Many call for the case to be a lightening rod for gun control as well.
The case did one thing for sure – it validated the right to bear arms once again, and the right to 'stand your ground' in the face of threats. The right to defend yourself was the key all along, not race, or profiling – when you are being accosted, and Zimmerman clearly was – the jury could not do nothing but follow the law, not emotion.
Was it a fair trial? Was the 'rule-of-law' strictly adhered to? Yes and no in our opinion. The trial was as fair as the climate would allow, especially for the deceased, but it was palpably unfair in some regard to the defense, especially how the judge handled the case, frequently showing open animosity for the defense team.
Then there were the constant tricks and surprises from the prosecution and all that high-pitched buffoonery in the State's closing remarks. When the state asks a jury to consider things not in fact, calls the other side liars incessantly, some level of professionalism was lost for good
It is obvious – no one can say the prosecution did not try their damnedest to succeed in convicting Zimmerman, especially since clear thinking jurists knew there never should have been a case in the first place – but that would not suffice in the court of public opinion. Again, we live in odd times, when fact and reason are outweighed by emotion, zealotry, and bias.
Trayvon Martin did get a fair day in court, to deny that is to say the judge and prosecutors were at fault. The law was followed, the jury adhered to it strictly and decided. Perhaps people should avail themselves more thoroughly of that aspect. To say you accept the verdict but disagree with the outcome is to deny the law; you cannot have it both ways in this case.
Many in the the public demanded an arrest, they got it. They demanded a trial, they got it. They demanded an outcome, they got one, just not the one they wanted. All of this due to external pressures that have no place in our judicial system. (Read about the media's involvement and the timeline of events that made this so volatile at Breitbart.)
Much of what took place over the past 18 months was unfair and did not follow proper procedure or the law, but not to Trayon Martin's detriment. In fact, the accusations that the Sanford Police and fired Police Chief Bill Lee mis-handled the case early on was quite unfair and simply untrue. Defense Attorney Mark O'Mara went on to say something important that is missed by those so focused on race:
"It seems as though what happened was an event that was being looked into by Sanford Police Department and quite honestly — as we now know — looked into quite well. I have taken advantage of police departments who have not done a good investigation of crimes because that's what I do for a living. When I looked at the Sanford Police Department investigation, they had done quite a good job, and you can compare what they did across the country to see who does good or bad jobs with their investigation, but they were doing quite a lot." (CBS News)
But O'Mara also eluded to the fairness of the actual trial in terms of how the defense was allowed to defend its client, and they were asked about the judge and prosecutors' actions. Both Attorneys West and O'Mara deflected with West saying "..he wanted to keep his law license for a few more years", and O'Mara saying the "…trial was fair, though more fair for one side…" – referring to the State.
The prosecution was openly dismayed and disappointed and you can see what they had to say here. They definitely tried hard, but the case had no merit despite what supporters of convicting Zimmerman believed.
"I have an amazing team of lawyers … and investigators … and I'm so proud to stand here with them to be part of the historical aspect of this case," Special Prosecutor Angela Corey said on live TV.

"I am disappointed as we are with the verdict, but we accept it," said prosecutor Bernie de la Rionda. (See more here.)
What is not yet in the discussion of future events is the fact that the judge held a very tight grip on discussing race, the character of the deceased and what motivated him, and the climate of that neighborhood in terms of security and previous crimes. However these aspects would well emerge in any civil action, and all would be wise to consider how that would play out in the court of public opinion. Remember, Trayvon's Mother already received $1 million from that homeowner association in a settlement.
But now, doesn't George Zimmerman also have some recourse, the option to sue those who so defamed him, like NBC and others who spewed untrue accounts to the public, doctored videos, spun the defamation wheel. Defamation of character and more certainly took place – that rush to judgment may be mighty costly for the likes of NBC. (Remember, they fired people over this.)
Please read the following article on the case and most importantly, also watch the video at the bottom where Piers Morgan of CNN, interviews George Zimmerman's brother right after the verdict. This is one of several times the two went face-to-face on the case.
A Just Verdict
By the Editors at the National Review
The George Zimmerman case was a wretched spectacle from the beginning, but for this we are glad: People in America are still tried in the courts rather than by left-wing protesters or by the media. To their credit, the jurors appear to have decided the case strictly on the facts, which gave them no choice other than to acquit Zimmerman, despite the long campaign of defamation against him outside the courtroom.
The most compelling moment in the post-verdict press conference by Zimmerman's legal team came when Mark O'Mara slapped the media for making a monster out of his client. You don't have to endorse Zimmerman's poor judgment that night to realize that he didn't commit a crime and isn't a bullying white racist circa 1955. He isn't even white, so the media had to resort to the "white-Hispanic" label to save their racial storyline. If Zimmerman had set out to assassinate Trayvon Martin, he never would have called the police to alert them to Martin's whereabouts. (Read the rest here at the National Review Online.)
This is the act of so-called profiling that is supposed to prove Zimmerman's dark, racist motivation. But he may have singled out Martin for his youth, his dress, or his behavior; he might have been just as suspicious of a white teenager dressed and acting the same way. (Zimmerman told the police on the call that Martin seemed like he was "up to no good.") He didn't volunteer Martin's race on his 911 call, but in response to the operator's question said that he "looks black."
What ensued was a tragedy that is a terrible loss to Martin's family. That tragedy would have been avoided had Zimmerman never fastened on Martin and if he had never gotten out of his car to trail him. What Zimmerman's haters never acknowledge is that it also would have been avoided had Martin never, as the evidence indicates, hit Zimmerman. It was a prosecution eyewitness who said that he saw Martin on top of Zimmerman beating him "ground-and-pound" style. Logic suggests that it was Zimmerman, who had the injuries consistent with getting beaten, who was yelling out for help that night.
This made the case a simple matter of self-defense, which is what police initially concluded when they declined to arrest Zimmerman. After an enormous firestorm and campaign of race-hustling political intimidation — loosely joined by President Obama when he said that if he had a son, he'd look like Trayvon — authorities charged Zimmerman with second-degree murder. With this, they lashed themselves to the most malign interpretation of Zimmerman's intent from MSNBC and the left-wing blogs. They never came close to proving their case and, in desperation at the end of the trail, tried to get the judge to allow the jury to consider a child-abuse charge (the jury was allowed to consider manslaughter).
Now that the jury has rendered the only verdict it reasonably could, the same characters who have spent more than a year smearing Zimmerman are indicting the American justice system. Al Sharpton wants the feds to pursue Zimmerman on civil-rights charges. Tavis Smiley says that "color gets you killed" in America, and "somebody can always explain away why this person got off, why this person was not found guilty, and what we have is a bunch of dead black men." A focus of ire is the "stand your ground" law, even though the Zimmerman case had nothing to do with Florida's version of that law — his lawyers made a strict self-defense argument, and a compelling one.
We wish the purveyors of perpetual outrage would pause from saying stupid and inflammatory things about the Zimmerman case long enough to consider how wrong they were about it all along. But we are realists.
This is the must see video of the interview between CNN's Piers Morgan and George Zimmerman's brother. Watch closely as Piers just simply cannot accept facts and reason as usual:
%CODE%