Harry Solomon is a retired Lt Col, USAF, having served in Vietnam as an RF-101 Photo Reconnaissance Pilot, completing 169 missions. His career included various assignments as an instructor pilot, logging time in numerous aircraft, research on nuclear weapons, nuclear weapons effects, nuclear weapons delivery, flight test of the A-10 Close Air Support aircraft, and served as Deputy for Test and Evaluation of the Cruise Missile.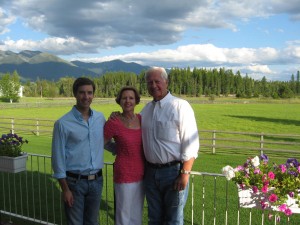 Following retirement from the USAF his professional work took him to Iran where he was Manager of Manpower and Training for the Imperial Iranian Air Force under the Shah. This was followed by assignment in Brussels, Belgium where he was responsible for the manufacture of APG-63 radar components for NATO F-16 fighter aircraft in Belgium, Holland, Denmark and Norway. Following an assignment in Cairo, Egypt,
Harry returned to the States where he was Program Manager for the SPS-40 radar for the US Navy under contract from NAVSEA.
While living and working in Belgium for seven years, Harry met Caroline Raman who was to become his wife in 1983. Their son, David, was born in .Belgium in 1985. Caroline and David accompanied Harry to Cairo. Caroline became a US citizen in 1995 and is active in conservative politics as President-elect of the Flathead County Republican Women.
Harry and Caroline reside in Bigfork, Montana. Their son, David is studying law at the London School of Law, London, England.